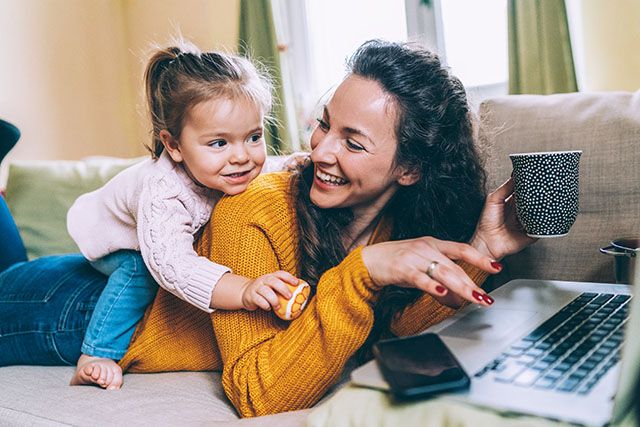 When I got married, I was so excited to begin the adventure of having my own family. This was the life I had anticipated since I was young. When my husband and I had our first child, a daughter, it was amazing. Two more sons and another daughter later joined our family, and my heart was full.
When my second son was born, I couldn't stop saying "the boys" were doing such and such. I loved having our house full of children. But at times I was definitely exhausted and short-tempered. I overreacted a lot and apologized a lot. But also I hugged a lot and beamed with pride a lot. Motherhood has given me many rewards. And frustrations. And heartaches and headaches. Full arms, and a full heart—all of it. I worked hard to learn what to do to help them learn and grow so they could make their way out in the world.
Slow Change, All at Once
I have been a stay-at-home mother for longer than I haven't. Being a mother has been my main role in life. I grew into this role and settled nicely with our four children at the table. But suddenly, as if it happened overnight, three of my children left the house in rapid succession for school and missions. I feel like I just barely put the Fisher-Price toys and Backyardigans DVDs away, turned around, and this is where I find myself.
And I am a hot mess. I really didn't think I would be a hot mess. Raising children to become independent adults was always the goal my husband and I worked toward. I had no idea what this would be like or feel like. It's not my favorite.
When my oldest daughter left for university, I was emotional and I missed her, but I was excited for her and knew she would be back in just a few short months for Christmas. But when my son left to serve a mission, it was a whole new type of heartache. I thought I would be so excited and joyful, and I really was, but I cried often and lost a lot of motivation to do much of anything. This confused me and honestly made me feel guilty. I'd been hoping he'd serve a mission since he was little, and now I find myself just wanting him to come home.
This is not the way I want to feel or act. I want to be proud of my children for leaving home to start their lives, even if it means that my own life is completely different. I have been cooking too much dinner. The house is unusually quiet, even when everyone is home. Netflix binges aren't a guilty pleasure anymore; they've become the norm. In the past, there has usually been more than one item of mothering business that needed my attention, but now I struggle to find any of my old, familiar tasks.
I feel like I should be loving the free time. I've been waiting for this phase ever since my first child spit up in my face and wouldn't sleep through the night. Now it's just different and strange.
Benefits of Tough Transitions
During this struggle, I read a BYU devotional called Transitions by Janette C. Hales Beckham. In it she said, "One thing we can all learn is that with time and perspective much growth and spirituality can come from transitions, and that is gratifying to know."
So, I have embarked on a quest to figure out how to move forward in a manner pleasing to myself, my children, my husband (poor soul), and the Lord. Through much contemplation and soul-searching, I have grasped onto the idea that transitions and change are for my good. I've adopted the phrase "give it a go" for my new lifestyle as an empty nester.
As I kept reading Sister Beckham's devotional, something she said helped me realize I was hyper-focusing on the relationships that were changing and not focusing on the one relationship that was constant and could really help. She said:
When we think of the path to eternal life described by Lehi, we see that transitions are an important part of the journey. In chapter 8, Lehi states: I beheld myself that I was in a dark and dreary waste. And after I had traveled for the space of many hours in darkness, I began to pray unto the Lord. . . .And it came to pass after I had prayed unto the Lord I beheld a large and spacious field [1 Nephi 8:7–8]. Prayer was the constant in this time of transition in Lehi's vision. He received understanding as he moved along and after he      prayed for help. ("Transitions", 12 November 1996).
I have always believed God's promises to us. And Sister Beckham reminded me of a promise He gave us in Isaiah 41:10, 13: "Fear thou not; for I am with thee. . . . For I the Lord thy God will hold thy right hand . . . ; I will help thee."
How beautiful! So I've been turning more often to God for help, for encouragement, comfort, and guidance. Remembering that He is holding my hand and He will help me. This is something I always knew and had undoubtedly given as encouragement to others, but somehow it didn't come to me as an option—a necessity—until I read her devotional.
So, I'm working on having that perspective on this huge transition in my life. I feel hopeful that I'm going to be able to change my focus to having an excited anticipation for my future and for my children's futures. It is truly exciting to see their growth, their own transitions, and how they work through struggles and successes. They are amazing humans. And I think I can be just as excited in those things for myself. I keep hearing in my heart the encouragement to give this new lifestyle a go. Everything will turn out for my good, especially if I recognize God's constant, comforting hand during this transition.