Gratitude for the "Not Yet"
July 19, 2018 • Blog Post
I think I was a little bit exhausted, really. Asking over and over again for the things I desired most. These were things I had already been promised and assured of—marriage, motherhood, a fulfilling career, and more. Yet I felt that I needed to keep on asking, as if I was the self-designated sticky note for God.
Remember when you promised me eternal marriage in my patriarchal blessing? I know I mentioned this yesterday, but I would still really like if that could happen, maybe sooner rather than later. . . .
I wasn't trusting in the Lord. And I certainly wasn't trusting that He would remember me. I felt somewhat forgotten as I saw Heavenly Father "remember" everyone else; it seemed that every other day presented a new wedding invitation for the fridge, another happily ever after for someone else.
Almost
I wasn't illustrating faith in His promises, let alone in His timing. For some reason, I felt like the only way anything would come to fruition was if I kept pestering Him.
This realization came after another plush rug of "almost" was pulled out from under me. The blessings I yearned for had looked like they were finally in the works, and then one day they weren't.
Once again, I was no longer on the road to marriage and motherhood. The things I had prayed for—for forever, it felt like—were once again totally intangible. But, amid the hurt and the heartbreak, I was reminded by the Spirit that what I had had wasn't my only shot; I would have the opportunity to build my own eternal family.
Gratitude for What You Don't Have
I remember kneeling in prayer and—instead of asking for the gagillionth time—thanking my Heavenly Father that I would one day be sealed to someone wonderful for time and eternity. I thanked Him for the children I would have the sacred responsibility to raise and nurture. I thanked Him for the immense happiness that the future held. And I thanked Him for the fact that things would eventually be a-okay.
This was something I had never done before—I had never thanked my Heavenly Father for the things not yet manifested in my life. Initially, it felt mildly presumptuous. But as I continued to give thanks in advance, I felt a renewed sense of faith and trust in Heavenly Father. For the first time in a long time, I felt intrinsically aligned with God's will. I was able to look at my life from His eternal perspective.
In her devotional given in 2015, Cheryl A. Esplin said, "Be grateful to God from whom comes every good thing." By "looking through the lens of an eternal perspective" and by "feeling and expressing gratitude," I was able to increase my faith in my Heavenly Father. ("The Abundant Life")
For me, expressing gratitude for what I don't yet have has become an act of faith. Giving thanks for the stuff of eternity is me believing that God will certainly answer my prayers in His way and in His time. It is being grateful that He listens and that He has a plan more perfect than I can even imagine.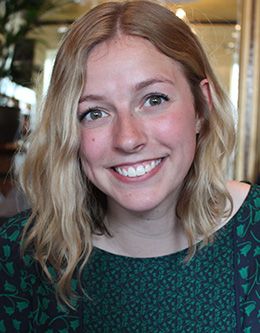 Megan Komm is an editorial intern for BYU Publications & Graphics, and she plans to champion the Oxford comma until her dying breath. Megan finds an unruly amount of excitement in greenery, witty words, free food, and other people's good news.