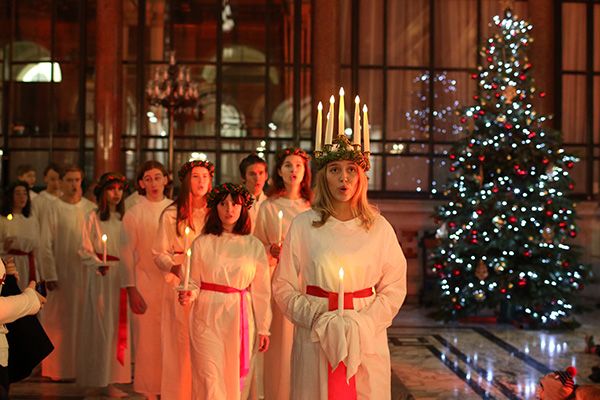 I've always been someone who loves light. I celebrate my birthday by trekking all my friends to a mountain meadow for a sun-kissed picnic. When I bought my home, I looked for the one with the biggest windows—and you can bet those blinds are open all day.
When the sunlight hours wane in the winter, I quickly feel its absence, and I literally start tracking how many more minutes of daylight we get each day as time progresses from January to February to March. I yearn for my friend the sun to spend more time with me.
One of my favorite Christmas traditions is the Lucia procession, which is all about light. In candlelit chapels, Swedes gather and wait for white-robed girls to walk in with crowns of candles on their heads. As they come in, the sanctuary grows brighter and brighter and the dulcet sounds of their singing echo louder and louder. They sing of Night that "walks with a heavy step," but they assure the audience that light will come and "a new day will rise again." It's a poignant reminder for this sun-lover that winter isn't lasting and darkness will not prevail. I also see it as a beautiful symbol of the light of the Son of God, who enters our dark days with hope and assurance that things will get better.
Lighting the World
The Light of the World is one of my favorite titles for Jesus Christ. Light is energy moving outward, rays that illuminate anything they touch. Similarly, the Savior "went about doing good" (Acts 10:38), spreading His light into the lives of the people He met and served and loved. He was more than an internally perfect and good being. His goodness went outward, touching everyone He came in contact with.
I love how the Church's Light the World message invites us to illuminate the little world around us as Christ did. So often I get caught up in doing the right things and being consistent with my personal worship, forgetting to look outward and care for others. When I work on that internal part of myself, I'm not being much of a light. I'm not doing much "going about doing good." I'm grateful that this time of year offers a reminder to not just be good but be loving, as Christ is.
President Thomas S. Monson explained, "Our opportunities to shine are limitless. They surround us each day, in whatever circumstance we find ourselves. As we follow the example of the Savior, ours will be the opportunity to be a light, as it were, in the lives of those around us" ("Be a Light to the World," November 11, 2011). With darkness in every life, my responsibility to be a light is an opportunity to love and care as Christ did.
For me, a concerted effort to outwardly care about others more often means I'm a bit more inconvenienced and uncomfortable, at least as I start. But I'm always surprised by how my anticipatory anxiety over reaching out to others dissipates immediately in the warmth that comes by turning on my light. As I do good, the Lord is quick to give me His love to serve others with.
I am so grateful for Jesus Christ, who lights my world and our world. And while His light will always be bright enough to reach all of us, I hope my little light will be a candle in the darkness too—loving in person as He loves in spirit.