Motherhood: Transcending an Either-Or Mindset
April 25, 2019 • Blog Post
In 1979 I said to a BYU devotional audience, "Given, then, the existence of a gap between where we stand and where we would like to be, . . . I believe there are three different levels of dealing with ambiguity. . . . The most productive response to ambiguity, then, is at level three, where we not only view things with our eyes wide open but with our hearts wide open as well" ("Love Is Not Blind: Some Thoughts for College Students on Faith and Ambiguity," 9 January 1979).1
Some people simply prefer the comfort of one viewpoint rather than carrying the discomfort required to navigate and, eventually, be enlightened by a continuing paradox—like justice and mercy. Yet, especially in balancing the interests of marriage, family, and career, we need to learn how to honor competing principles, accept the occasional tensions, and transcend an either-or mindset. Then the tension becomes productive.
The Noblest Calling
For example, in 1987, during my time as dean of the BYU Law School, President Ezra Taft Benson spoke in a Churchwide Sunday evening broadcast for parents ("To the Mothers in Zion," 22 February 1987). He described motherhood as "the noblest calling of all"; indeed, "motherhood has the greatest potential influence either for good or ill in human life." After emphasizing the importance of having and nurturing children, President Benson said that through death, divorce, and other unusual circumstances, mothers may be "required to work for a period of time." But he urged each father "to do all in his power to allow his wife to remain in the home caring for the children." And he expressed genuine empathy for childless and unmarried faithful women.
The next morning as my Family Law class began, Mitzi Collins, a student, asked if we could discuss President Benson's talk. I nodded and suggested we talk right after class. Mitzi responded gently, "Could we talk about it—right now?" I knew and respected Mitzi. She was the president of the Women Law Students, an excellent student, and a devoted Latter-day Saint. Then I saw the other women students nodding in agreement with her.
We then had a very open conversation that lasted until the class period ended. The students said that already some of the women had found notes left on their carrels by some male students who had written phrases like, "Law school admission is so competitive. Please let a man have your place in our class." So I agreed to have a similar discussion with all of the women law students that afternoon.
When I later started for the student lounge, I saw a crowd of students walking another direction. I asked a student, "Where is everybody going?" He replied, "The Moot Court Room. The dean is going to tell us what the Prophet meant!" Somehow my meeting with women students had become a meeting for the whole student body—to say "what the Prophet meant!" I shuddered.
Faith and Ambiguity
I was witnessing a confusing example of ambiguity and prayed for help to talk about it productively. Some male students, including those who had placed the notes on the women's carrels, felt vindicated by their narrow reading of some of President Benson's language. The men were troubled by our growing number of women students, sometimes judging them as living out of harmony with Church teachings.
Others tended to downplay what President Benson said if they didn't agree with it. But Mitzi and her friends felt caught in the gap between the ideal and the real. They had enrolled in our law school with idealistic visions of what they could do with their legal education, single or married. But now, because of their respect for the President of the Church, they worried that they'd done something wrong.
By Study and By Faith
I first told the law students that during my BYU–Idaho years, I had attended monthly meetings with our senior Church leaders—including President Benson. I knew firsthand how they felt about the Law School. I said, "The Brethren know you women students are here, and they are glad!" I had heard those leaders express many positive variations on President Gordon B. Hinckley's oft-repeated counsel to LDS women: "Get all of the education that you possibly can. Life has become so complex and competitive. . . . You will be expected to put forth great effort and to use your best talents" ("Stay on the High Road," April 2004 General Conference).
At the same time, the general principles President Benson had taught about mothers later appeared in the proclamation on the family in 1995: "By divine design, fathers are to preside over their families in love and righteousness and are responsible to provide the necessities of life and protection for their families. Mothers are primarily responsible for the nurture of their children. In these sacred responsibilities, fathers and mothers are obligated to help one another as equal partners."
I wanted the students to know that these true principles applied to society as well as to the Church. Drawing on my own research in family law, I expressed personal concern that our society increasingly devalues motherhood—even though research has long shown that good mothering is critically important. I don't recall just what illustrations I shared then, but those data were similar to more recent findings. A 2005 study, for example, found that 81 percent of American mothers considered their mothering the most important thing they do, even though only about half of all mothers felt valued in that role by society.
Other data show that mothers are the best 'models' to help growing children move through all the necessary stages of brain development (See Joseph Chilton Pearce, The Biology of Transcendence (Rochester, VT: Park Street Press, 2002). Thus absent or ineffective mothering can stunt childhood brain growth, negatively affecting both families and society. Stable marriages and stable parenting—mothers and fathers—are the key factors that determine children's well-being. And dysfunctional children contribute to an increasingly dysfunctional society.
I said our students' gospel perspectives equip them to understand marriage and parenting far better than most people do now. So if our students of either gender were asked to tell other American law students what matters most in their lives, their general priorities would probably sound much like President Benson's. That made it all the more important for the women in that group to gain a sound education and the skills needed to help a society that is all confused about marriage and family life.
I concluded that almost nothing is more important than motherhood and fatherhood. Yet the Church encourages women to gain all the education they can, including, if they so choose, law school. And we all need prayerfully to apply these sometimes-competing principles to our own circumstances. The Brethren have confidence in our ability to do that.
At times we judge other Church members too harshly, not allowing them the space to make personal judgments. Learning to understand and live with competing true principles is an essential skill—not only for law students, but for all the rest of us.
Note
For an updated and expanded treatment that applies to internet culture, see Bruce C. and Marie K. Hafen, Faith Is Not Blind (Deseret Book, 2018).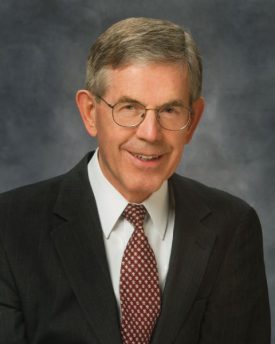 Bruce C. Hafen is an emeritus general authority, who has served as a member of the First Quorum of the Seventy, provost of Brigham Young University, dean of the J. Reuben Clark Law School, and president of BYU–Idaho. You can find his addresses given at BYU <a href="https://speeches.byu.edu/speakers/bruce-c-hafen/">here</a>.