True Refining Fire
March 18, 2016 • Blog Post
Explore More On
Overcoming Adversity
The morning the Provo Tabernacle caught fire, I was at work producing the 5:30 a.m. radio news segments for Classical 89.1 KBYU-FM. The fire was the big story of the day, and the news was particularly devastating to me, a young journalism student, because I hadn't yet set foot in the tabernacle, and now I had forever missed the opportunity.
© Brad Slade
Following the fire, I heard accounts of people who smelled smoke during the dress rehearsal the night the tabernacle burned and reports of multiple fire alarms that were acknowledged and then ignored—the alarms had a tendency to sound off on their own due to a system glitch.
As a result of disregarded signals, one of the oldest church buildings of this dispensation burned into a hollow shell.
I'm sure a number of people who experienced the warning signs of the fire were tormented about the missed opportunities to prevent the loss of the building. Similarly, I feel pain and guilt when I ignore my own spiritual warnings and make a wrong choice. Consumed by additional feelings of self-disappointment when I've stumbled for the umpteenth time, I listen to the adversary whisper lies that I've forfeited an eternity of blessings and can never be as whole as I once was.
But less than a year after the fire, President Thomas S. Monson made a beautiful announcement in the 2011 October general conference: the Provo Tabernacle would become a temple.
© Brad Slade
As a tabernacle the building served a wonderful role as a community-gathering center for cultural performances and religious services. But now as a temple this building will become perfect. It will do good for many generations of people in the future and in the past. Because of a missed opportunity, this building will become a more holy and sacred place than it was before.
The Provo City Center Temple reminds us that our failings can open pathways to our greatest growth. But to grow we need to first let go of what might have been. In his monumental BYU devotional address titled "Remember Lot's Wife," Elder Jeffrey R. Holland counseled:
There is something in us, at least in too many of us, that particularly fails to forgive and forget earlier mistakes in life—either mistakes we ourselves have made or the mistakes of others. That is not good. It is not Christian. It stands in terrible opposition to the grandeur and majesty of the Atonement of Christ. To be tied to earlier mistakes—our own or other people's—is the worst kind of wallowing in the past from which we are called to cease and desist.
I don't mean to diminish the consequences of not heeding physical or spiritual warnings. The restoration of the tabernacle/temple has been very costly, both in resources and in time. In parallel, dealing with the consequences of our mistakes can be very hard. Satan would have us dwell in hopelessness and shame, but a merciful and loving God would help us pick ourselves up, dust ourselves off, and move forward doing our best to make things right. Through the Atonement of Jesus Christ not only can we be restored to what we once were, but we can also be made so much better—even perfected.
Every time I pass the Provo City Center Temple, I am reminded of its powerful example of true refining fire.
Read more about the the Provo City Center Temple at http://magazine.byu.edu/article/of-beehives-books-and-bricks.
© Brad Slade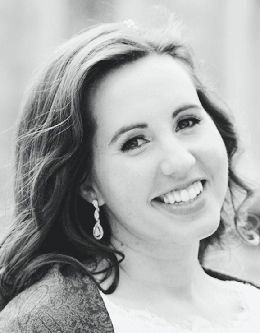 Natalie T. Ipson is the BYU campus news and media relations manager. Off campus, you'll likely find her on a trail through a canyon or in a stadium cheering on the Cougars. "Those who have faith and move forward with a happy spirit will find that things always work out." –Gordon B. Hinckley