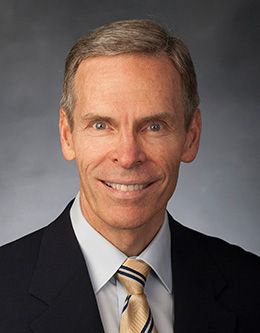 Alan L. Wilkins
Alan L. Wilkins is an author, administrator, and educational advocate. He received BA and MBA degrees from Brigham Young University before going on to receive a PhD from Stanford in 1979. His professional career began in 1978 when he was hired on at BYU as an assistant professor in the BYU Marriot School of Management. He later went on to become associate professor and eventually the department chair of Organizational Behavior and director of the master of organizational behavior program. It was here that he served until 1994, when he was appointed to the position of associate academic vice president for the BYU faculty.
In 1996 Dr. Wilkins was appointed as academic vice president of the university, serving in this position until he took a three-year leave to serve as mission president of the Argentina Buenos Aires North Mission from 2004 to 2007. Upon his return, Dr. Wilkins was appointed associate director of the Faculty Center, which provides support for faculty members across the spectrum of their various responsibilities and throughout their careers.
Dr. Wilkins has won various awards for his service and scholarship, including the Outstanding Faculty Award from the Marriott School of Management, the Wheatley Professorship for Integrity in Free Enterprise, the Benkendorf Scholarship, and the NIMH Training Fellow. He has worked as a consultant for large companies such as Ford Motor Company, General Electric, and Frito-Lay. Dr. Wilkins is the author of Developing Corporate Character: How to Successfully Change an Organization without Destroying It and has also authored numerous articles that have appeared in peer-reviewed journals. He regularly delivers presentations at universities throughout the United States and has given devotional and administrative addresses at Brigham Young University.
---
---