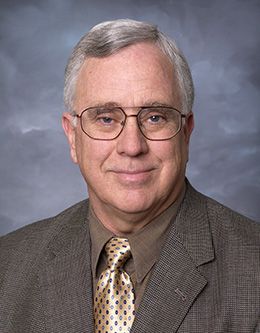 Allen Palmer
Allen Palmer, a former member of the Communications faculty at Brigham Young University, served as director of International Media Studies. After graduating from BYU in journalism in 1969, Professor Palmer studied at the Annenberg School for Communication at the University of Southern California. He received his doctorate in communication theory and research from the University of Utah.
Professor Palmer joined the BYU Communications Department in 1988 after teaching at Ricks College in Idaho and the University of Mauritius in the Indian Ocean. In 2004 he was a Fulbright Scholar in Namibia. He was also a visiting professor at the University of Prishtina in Kosovo and completed teaching assignments for the U.S. State Department and other agencies in East Africa, South America, Southeast Asia, and the Middle East. He served as an officer in the International Association of Media and Communication Research.  Professor Palmer was also named a 2009-10 Fulbright Scholar for his work with communications in the Kyrgyz Republic. He began work at the American University of Central Asia in Bishkek, Kyrgyzstan in August 2009.
Dr. Palmer's research has been published in numerous journals and books. At BYU he taught courses in comparative media, communication processes and effects, and international communication problems.  He retired from teaching in 2008.
Professor Palmer and his wife, Dr. Lori Palmer, who served as associate academic vice president at Utah Valley State College, are the parents of six children.
---
---