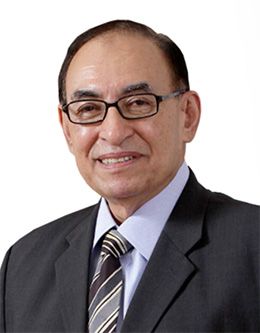 Alwi Shihab
Born on August 19, 1946, in Sulawesa, Indonesia—the largest Muslim country in the world—Dr. Alwi Abdurrahman Shihab is one of the world's leading authorities on Islamic law. In his forum address given at Brigham Young University, he called for understanding between Islam and the West in order to foster not only tolerance but harmony.
Shihab was raised in a home that emphasized education. At age 10, he began studying at the Darul Nashihin Boarding School. Later, his father sent him and his brother to Cairo, Egypt, to complete their high school studies, and while there Shihab earned a bachelor's degree from Al-Azhar University and a licenciate degree in Islamic philosophy in 1968. Shihab then returned to Indonesia to continue his education, receiving his master's degree at Alaudin State Institute of Islamic Studies in 1986. He obtained his first doctoral degree in 1990 from University of Ain Shams, Cairo, and subsequently acquired another PhD and a post-doctorate degree from Temple University in Philadephia, Pennsylvania. In addition, Dr. Shihab did post-doctoral study at Harvard University's Center for the Study of World Religions. He has held professorships at the Harvard University School of Divinity, Hartford Seminary, Kediri Islamic University in Indonesia, the University of Indonesia, and the University of Gadjah Mada in Indonesia. He has also published a book titled Islam Inklusif, or Islam Inclusive, and many other articles on Islam–Christianity relations. He is a proponent of peace, eager to show the similarities among Islam, Christianity, and Judaism.
Since 2006 Dr. Shihab has acted as the presidential advisor and special envoy to the Middle East in Indonesia; he is also the president of the Organization of Islamic Cooperation. His previous government experience included service as the Indonesian Coordinating Minister for People's Welfare (2004–2005) and as the Foreign Minister of Indonesia (2000).
When Dr. Shihab came to Brigham Young University to present his forum address, he was introduced by Boyd K. Packer. The two had previously worked together to provide relief when Indonesia was struck by a devastating tsunami in 2004. Since then, they have sat down and compared beliefs. Although religious and cultural differences exist, President Packer explained, "We have agreed to symbolically walk arm in arm into the future. Together we hope to build a bridge. Except what that symbolizes is accomplished, all of us face a very dark and very dangerous future."
Dr. Shihab has dedicated his life to eradicating the radicalism that plagues both Islam and the West and knocking down the barriers between God's children.
Dr. Shihab and his wife, Ashraf, currently reside in the United States with their children.
---
---