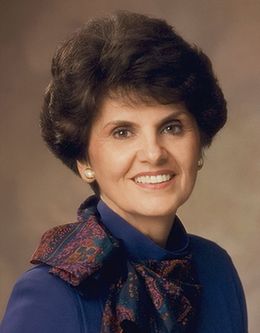 Ardeth G. Kapp
Ardeth G. Kapp, the ninth Young Women General President of the Church, is beloved by many for always encouraging Church members to become their best selves in the gospel.
Ardeth Greene Kapp was born in Cardston, Alberta, Canada, on March 19, 1931, to June Leavitt and Ted Greene. She grew up in a town with a population of only about 250, yet it was in that small town that she met her future husband. Heber B. Kapp, a missionary in the Western Canadian Mission, served in her ward where her father was the bishop. In his journal, Elder Kapp described 16-year-old Ardeth as "cute, fun, but kind of young." When she moved to Provo, Utah, in 1948 to finish high school at Brigham Young High School, Ardeth and Heber became good friends and were married in the Cardston Alberta Temple on June 28, 1950. Although the two could not have children of their own, they spent their whole lives serving and uplifting both children and adults alike.
After their marriage, Heber and Ardeth remained in Utah to continue their schooling. Ardeth received a BS degree from the University of Utah and an MS degree in curriculum development from BYU; her subsequent career as an educator was rich and fulfilling. She was a teacher in the Davis County School District; wrote TV programs for the Utah Network of Instructional Television; taught in the BYU College of Education where she coordinated the Student Leadership Development program; and served on many boards and committees such as the Church Curriculum Planning Committee, the Church Educational System, and Desert Book Company. She is also the author of several books.
Sister Kapp was involved in Church service throughout her entire life, but her capacity to serve the Lord was expanded in 1972 when she was called to serve as second counselor in the Young Women organization under Ruth H. Funk. Twelve years later, in April 1984, Kapp herself was called as the general president. During her tenure, Sister Kapp oversaw several important milestones for the organization: the first Young Women satellite broadcast was held; the Young Women theme, motto, logo, and values were introduced; and the Personal Progress program was relaunched. She aimed to instill virtue, charity, and divine identity into the 450,000 young women whom she cared for until her release in 1992.
Following her release, she returned to Canada to serve alongside her husband, Heber Kapp, who had been called to preside over the Canada Vancouver Mission from 1992 to 1995. Five years later, from 2000 to 2003, the couple had the privilege of serving as president and temple matron of the Cardston Alberta Temple—the same temple where they were married fifty years prior.
Ardeth G. Kapp said she would like to be remembered as "optimistic, enthusiastic, with a sense of humor and a love for people. And anxious to serve." Due to her many inspiring devotional addresses throughout the years, in which she fervently bore her testimony about principles of righteous living and the gospel, the students and faculty of BYU will remember her as just that.
---
---