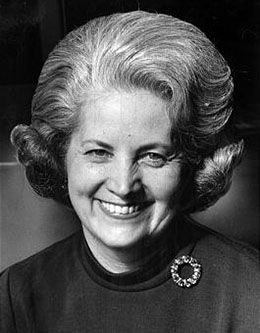 Barbara B. Smith
During the second-wave feminist movement of the 1970s, Barbara B. Smith stood in strong defense of the importance of the divine role of women, motherhood, and the family unit. Far from being opposed to women's rights, Sister Smith sought to reinforce eternal priorities in a world of expanding opportunities. She taught, "It is necessary for women to know that they are different from men, with different responsibilities in life. Not less than men, just different." As the tenth general president of the Relief Society, Sister Smith devoted her life to building up women all over the world.
Barbara Bradshaw was born in Salt Lake City, Utah, on January 26, 1922, the third of six children born to Dan Delos and Dorothy Mills Bradshaw. Although her family had very little money and their fair share of hardships, Barbara said that her mother's attitude toward life was a great strength to their family. She recalls that Dorothy Bradshaw "learned to laugh with people, not at them. And she had a lot of faith in her children—she would tell us that we could do things, and she didn't demean or belittle us in any way." Barbara credits her optimistic outlook on life to her mother, whose example impacted her in numerous ways.
Barbara graduated from South High School in 1940 and married Douglas H. Smith one year later. They became the parents of three sons and four daughters, and family was the Smiths' number-one priority. Her children recall that Barbara always built up their self-esteem, and her daughter Sherilynn said, "She is never too busy for family. . . . If we need her, she's there." Her children remember her frequently being at home to nurture, support, and teach them, despite all her other demands and responsibilities.
Sister Smith's devotion to the Relief Society began when she was expecting her first child. Her mother didn't want to leave her alone, so Dorothy invited Barbara to attend a Relief Society activity which reviewed one hundred years of Relief Society history. Barbara soon began attending regularly and grew passionate about the purpose of the Society. President Spencer W. Kimball called Sister Smith to be the tenth Relief Society General President in 1974, and with support from her husband and family, Sister Smith led the organization through times of growth and change.
During her ten-year tenure as president, the membership in the Relief Society grew from less than 1 million members who spoke 17 different languages to 1.6 million members speaking 80 languages. She also saw the new three-hour meeting schedule that consolidated all Church meetings into a single Sunday block. But by far the biggest change she saw was not within the Church but the social attitudes about women in the world.
The Equal Rights Amendment (ERA) was a topic of hot debate at the time, and more and more women were campaigning for women's rights. Both Sister Smith and The Church of Jesus Christ of Latter-day Saints opposed the amendment and its support of abortion and the recruitment of women into the United States military; Sister Smith appeared as a guest on The Phil Donahue Show in 1980 to explain the LDS view that men and women are equal without the need for the ERA. A leading proponent of women's central and irreplaceable role in the fundamental societal unit of the family, she was also invited to a state dinner with President Jimmy Carter and later invited to the White House by President Ronald Reagan to discuss the issues facing women and time-honored values. Sister Smith taught women to "reach out in love to serve someone every day," whether in their families, in their professions, or among their friends, and that all people—women and men—were children of a loving Heavenly Father. She aimed to strengthen the home in order to strengthen society.
When she was released as Relief Society General President in 1984, Sister Smith continued her Church service, moving to Hong Kong to serve with her husband as he presided over the Asia Area. There, she served as the ward Relief Society president. She was also active in civil service, serving as the national president of American Mothers Incorporated and a member of the Days of '47 committee. Sister Smith also published several books: The Love That Never Faileth, The Light of Christmas, Growth in Grandmothering, and A Fruitful Season.
Barbara B. Smith passed away from pulmonary fibrosis on September 13, 2010, and was reunited with her husband who had passed away a year prior.
"She just had a strong testimony of the gospel of Jesus Christ and always wanted to be found doing the right thing," said her son Lowell Smith. Sister Smith shared her testimony six times at Brigham Young University through these devotional addresses. Her devotion to gospel principles is evident throughout her talks, and her words continue to inspire.
---
---