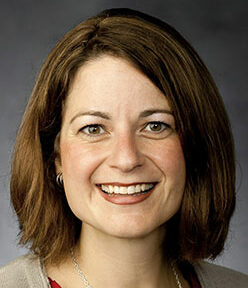 Barbara Morgan Gardner
Barbara Morgan Gardner is an associate professor of Church history and doctrine at Brigham Young University. She was born and raised in Salem, Oregon, and served a Spanish-speaking mission for The Church of Jesus Christ of Latter-day Saints in the Los Angeles Temple Visitors' Center Mission. 
After receiving a bachelor's degree in American studies and a master's degree in educational leadership from BYU and a PhD in instructional psychology from Utah State University, Gardner completed her postdoctoral work in higher education administration at Harvard University. Her research focuses on women in religious leadership; international education, primarily in Latin America; and religious pedagogy. 
Gardner is the author of the book The Priesthood Power of Women: In the Temple, Church, and Family. She serves as the chaplain-at-large for the Church of Jesus Christ, and she also serves on the BYU Interfaith Outreach Council. From 2019 to 2021, she was the cohost for BYUtv's Come Follow Up series. Prior to working for BYU, she was Church institute director and chaplain for Harvard and MIT in Boston. 
Gardner's interests include teaching, traveling, and the great outdoors. She and her husband, Dustin, are the parents of two girls. They reside in Highland, Utah. 
---
---