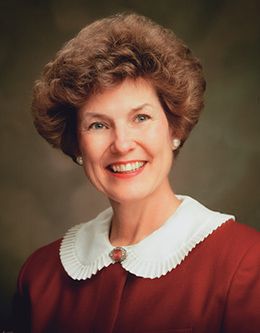 Barbara W. Winder
The spirit of unity, the desire to bond all of God's children to one another, and a lifetime of service prepared Sister Barbara W. Winder to lead the women of The Church of Jesus Christ of Latter-day Saints as the eleventh Relief Society General President. The controversial Equal Rights Amendment of the 1970s had divided American women, but the 80s introduced a time of increased tolerance and acceptance. It was "a time to heal," said Sister Winder. "We can have unity in diversity and diversity in unity. We don't have to be like one another to enjoy sisterhood."
As a child, Sister Winder was loved by her peers, and she was remembered for her happy disposition. Born on May 9, 1931, Barbara W. Winder was the oldest of four children and often helped her parents by watching her younger siblings. Though her parents were not active members of the Church, they still encouraged her to attend LDS services each Sunday. She credits them with teaching her how to be compassionate; she always observed them caring for others while she was growing up.
Sister Winder was studying home economics at the University of Utah when her family's milkman introduced her to his brother Richard, who had just returned home from an LDS mission. For their first date, the couple went on a hayride. They were engaged three weeks later. Richard and Barbara were married in the Salt Lake Temple in 1951.
Church service has given Sister Winder the opportunity to meet and connect with people from all over the world. While serving with her husband as president of the California San Diego Mission, she received the call from President Gordon B. Hinckley to be the eleventh Relief Society General President. She served in this capacity for six years and was released when her husband was called to serve as president of the new Czechoslovakia Prague Mission. She happily accompanied him, and later the couple was honored with the Czernin Palace Award, given by the embassy of the Czech Republic to honor those of non-Czech nationality. Brother and Sister Winder would later go on to serve as president and matron of the Jordan River Utah Temple, as missionaries in the Family History Center, and as the first president and matron of the Nauvoo Temple. Sister Winder also encouraged all sisters of the Church to actively participate in the visiting teaching program.
In an address to BYU students in 1988, Sister Winder encouraged her audience to remember that they are all children of God. She advocated using every opportunity to bring people together in a spirit of unity. "It is, after all," she said, "not so much what we know but what we are willing to share that makes the difference."
---
---