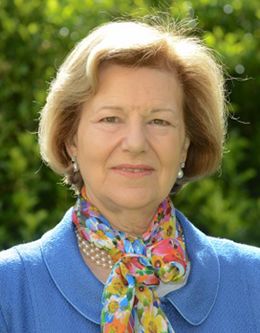 Baroness Emma Nicholson
Emma Harriet Nicholson was born in Oxford, United Kingdom, on October 16, 1941. Growing up in war-torn Europe instilled in her, from an early age, compassion for those who suffer. Throughout her life, she has worked to relieve the burdens of others.
The descendant of a family of politicians, Nicholson aspired to be both a politician and musician. She attended the Royal Academy of Music, playing the piano and conducting music, but hearing loss impeded her ability to really succeed in the musical sphere. Nicholson then decided to try something new, learning about information technology and becoming a computer programmer and systems analyst from 1962 to 1974.
Nicholson delved into British politics for the first time in 1979 when she contested the constituency of Blyth, but she was defeated. In 1987 she was elected in Parliament as a member of the Conservative Party for Torridge and West Devon and served there for ten years. She later defected to the Liberal Democrats in 1995, but eventually returned to the Conservative Party in 2016. Nicholson was made a life peer as Baroness Nicholson of Winterbourne in the Royal County of Berkshire, in 1997.
In 1999 Baroness Nicholson joined the European Parliament on the Committee on Foreign Affairs, and she became vice president from 2004 to 2007. In this capacity, she served as the president of the Delegation for Relations with Iraq, the president of the Committee on Women's Rights of the Euro-Mediterranean Parliamentary Assembly, and a member of the subcommittee on Human Rights. She continued her work in the House of Lords in 2009, founding the All-Party Parliamentary Group (APPG) for Business Development in Iraq, serving as a member of the APPG for Human Trafficking, and chairing the APPG for Foreign Affairs, especially regarding Middle Eastern countries.
Her experience with the Middle East and her desire to aid refugees led Baroness Nicholson to found the AMAR International Charitable Foundation in 1991 in response to Saddam Hussein's persecution of Marsh Arabs. AMAR, which means builder in Arabic, is now one of the leading charities in the Middle East, and it provides professional health and education to disadvantaged peoples in the Middle East. Since 2014 AMAR has focused on helping those in Iraq who have been displaced from their homes due to Islamic State invasions.
The AMAR Foundation has worked closely with LDS Charities, the Humanitarian Department of The Church of Jesus Christ of Latter-day Saints. Baroness Nicholson has forged strong friendships with Elder Jeffrey R. Holland of the Quorum of the Twelve Apostles and Sister Sharon Eubank, first counselor in the Relief Society General Presidency and director of LDS Charities, and LDS Charities and the AMAR Foundation have banded together to help refugees and others in need. They build health clinics and training centers, provide emergency aid, and help victims of sexual violence in the Middle East. Both organizations, says Baroness Nicholson, are among "the doers of life."
Elder Holland referred to Baroness Nicholson as "a Christian, an advocate, a gentlewoman, and a friend." She received an honorary doctorate in International Leadership and Humanitarian Service from Brigham Young University in 2017 and has spoken twice at the university, detailing her path to service and urging students and faculty alike to find theirs.
---
---