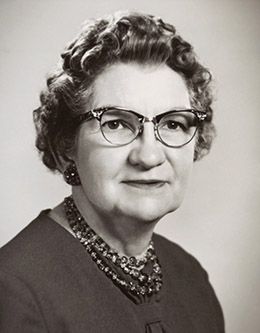 Belle S. Spafford
Marion Isabelle Sims Smith Spafford, known as Belle, was born on October 8, 1895. She was the seventh child of John Gibson Smith, who passed away before she was born, and Hester Sims. Although Belle grew up without a father, her mother inculcated into the children a deep love for their Heavenly Father and a high esteem for priesthood leaders. Belle's grandmother and namesake, Isabelle M. Smith, also sustained the family both temporally and with her testimony of the gospel.
Belle attended Latter-day Saints University and graduated from the Normal School (a school for teachers) at the University of Utah. Following her graduation, she taught special education classes at Brigham Young University, where she met her future husband. Belle and Willis Earl Spafford were married on March 23, 1921, in the Salt Lake Temple and had two children, Earl and Mary.
As a young mother, Belle didn't enjoy going to Relief Society; she viewed it as an organization better suited for women her mother's age. Despite her attitude, she was asked to serve in her ward's Relief Society presidency—a calling she unenthusiastically accepted and asked to be released from. Even after a car accident, the bishop refused to release Belle, so instead she decided to magnify her calling. She served during the Great Depression, and while the Relief Society canned fruit for families in the ward, her love for the organization began to grow.
Belle served in the Relief Society at the stake level, as a member of the general board (1935–42), as a Second Counselor in the General Presidency (1942–45), and in 1945 she was called to be the ninth Relief Society General President. She would remain in this capacity until 1974, her thirty-year tenure unparalleled by any president before or since. Sister Spafford served with six prophets and saw many changes to the Relief Society: membership grew from 100,000 mostly concentrated in the Intermountain West to over one million members in dozens of countries; the Relief Society began receiving funding from the Church; and the Ensign replaced the beloved Relief Society Magazine as the Church's primary literature for women. Spafford also oversaw the construction of the Relief Society Building and was a founder of the organization known today as LDS Family Services.
In addition to ministering in the Church, Belle served on a national scale. A public servant dedicated to improving the welfare of those around her, Belle was an active member of the National Council of Women of the United States for 42 years, serving on the general board for seven years before being elected president in 1968. She also participated in many organizations, such as the American Regional Council of the International Council of Women, the American Mothers Committee and Advisory Board, and the National Advisory Committee to the White House Conference on Aging. Due to her civic involvement, she became both a nationally and internationally sought-after speaker and has been honored extensively by organizations and institutions nationwide.
Despite her involvement in women's organizations, Belle publicly opposed the Equal Rights Amendment, holding firm to her belief that "major advances embodied in the proposed amendment could be achieved through regular channels of state and federal legislative action without raising questionable results" during the tumultuous tides of the women's rights movement in the 1970s. However, this did not mean that Belle opposed women's rights; she was actually an advocate of equal pay, nondiscrimination in hiring practices, and gender equality. Four of her nine BYU devotional addresses are aimed toward empowering women.
Belle Spafford passed away on February 2, 1982. At her funeral, many described Belle as their best friend. For almost nine decades, she had ministered to others, leaving behind a legacy of love and service to everyone around her.
---
---