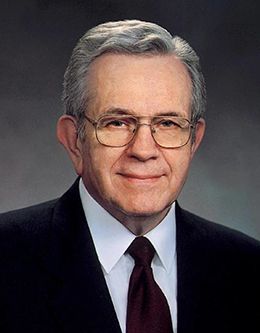 Boyd K. Packer
Early Life
Boyd Kenneth Packer was born on September 10, 1924, the tenth of eleven children. As a young boy, he contracted polio, which was misdiagnosed as pneumonia. When he recovered, he had to relearn to walk and endured lifelong problems with his knees and hips. Despite this physical setback, Boyd K. Packer was driven by a sense of duty and did not accept excuses for himself.
Military Service and Family
After high school, Elder Packer worked to help build an army hospital in Brigham City, Utah. He was prevented from serving a mission due to World War II, so in 1943 he enlisted in the Army Air Force. A year later, he graduated as a pilot. Stationed in Okinawa at the end of the war, he eagerly anticipated returning home but was instead assigned to remain in the Pacific with the occupying troops. Packer was able to return home in 1946 and enrolled in what is now Weber State University.
While attending school in Weber, Boyd K. Packer met Donna Edith Smith, who was from his hometown of Brigham City. They fell in love and were married in July of 1947 in the Logan Utah Temple. They had ten children together. His children recall that no matter how busy life was, being a father was always Boyd K. Packer's top priority. He loved his family immensely and made an effort to spend time with each child every day. He also took advantage of every opportunity to teach and encourage his children. Many years later, Weber State University dedicated the Boyd K. and Donna Smith Packer Family and Community Education Center to commemorate the Packers' dedication to family.
Education, Career, and Church Service
After graduating with an associate's degree from Weber in 1948, Boyd K. Packer went on to earn a bachelor's degree from Utah State University in 1949, a master's degree from Utah State University in 1953, and a doctorate degree in education from Brigham Young University in 1962. It was his dream to be a teacher, and in 1949 he began teaching seminary at the hospital he had helped to build several years prior, which had since been converted to a school for Native American students. During this time he also served for four years as a city council member as well as a teacher, assistant clerk, and high councilor in the Church.
In 1955 Elder Packer was appointed assistant administrator of seminaries and institutes in the Church Educational System, upon which he moved to Lindon, Utah. Six years later, he was called as an assistant to the Quorum of the Twelve. In this capacity he served as a mission president over the New England States Mission and also a managing director of the Church's Military Relations Committee.
In 1970 Elder Boyd K. Packer was called to the Quorum of the Twelve Apostles. He would spend 45 years in the Quorum, almost half of that time serving as either its acting president or president. He was a part of the committee that produced a new edition of the scriptures. He also dedicated Ukraine for the preaching of the gospel and dedicated three temples: San Diego California (for which he read the dedicatory prayer in Spanish), Regina Saskatchewan, and Brigham City Utah. Dedicating the temple in his hometown was especially moving for Elder Packer. He also took a special interest in various minority groups of the Church. He served as an advisor to the Genesis Group, a social organization for African-American members, and played a key role in securing large archives of Native American and Jewish genealogical records.
Throughout his life, Elder Packer loved nature, especially birds. He had raised different species of birds while growing up, and as an adult he would often unwind from his many responsibilities by carving and painting beautiful sculptures of birds. He was a gifted artist who saw the beauty of God's creations, and some of his paintings now hang inside of the temple in Brigham City.
Elder Boyd K. Packer passed away on July 3, 2015, having spent his life in service to his Heavenly Father, the Church, his country, and his family. His teachings and addresses are characterized by frankness, down-to-earth humor, and tenderness; he was passionate in his warnings against the dangers of sin, but even more passionate in his testimony of the redeeming power of the Savior. His many addresses at BYU demonstrate his kindhearted and yet fervent devotion to the principles of the gospel.
---
---