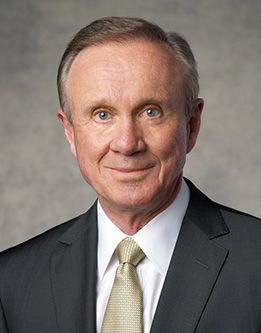 Bradley D. Foster
Elder Bradley D. Foster was born in 1949 and is originally from Rigby, Idaho. As a young man, he served as a full-time missionary for the Church in Texas. Since then, he has served as a bishop, a stake president, and a mission president. He has also served in the South America South Area Presidency and in the North America Southwest Area. Elder Foster has served as a General Authority Seventy for the Church of Jesus Christ of Latter-day Saints. He was sustained in April of 2009. Elder Foster currently serves as Executive Director of the Family History Department. He and his wife were married in 1971. They have for daughters, whom they love dearly.
Elder Foster has not only perpetuated the example of selfless service through his fulfillment of Church callings but also shows determination and diligence through his work endeavors. He graduated from Ricks College, where he pursued pre-veterinary studies. He started his own company in 1971. Elder Foster has served in many important positions in his field. Eventually, he became a member of the President's Advancement Council at BYU–Idaho.
He shared his life advice with graduates of Brigham Young University in the April 2017 commencement ceremony. Elder Foster encouraged graduates to live in a way that they can rejoice when they come to the end of their lives. He urged them to focus their lives on following the example of Jesus Christ. He also reminded them to focus on their relationships not their wealth. Elder Foster's advice cautions people to focus on living without regrets so that there is cause to celebrate when everything has been accomplished. In addition to the speeches he has given at BYU, he has also spoken in General Conference.
---
---