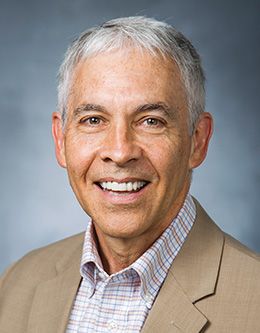 Brent D. Slife
Brent D. Slife is a psychotherapist and psychology professor at Brigham Young University. His contributions to the university have been tremendous: he was the recipient of the Karl G. Maeser Award for being a top researcher among BYU faculty, and at the time he delivered his forum address, he was awarded the annual Distinguished Faculty Award. He has also been voted Teacher of the Year by the university and Most Outstanding Professor by psychology students. One of the reasons Dr. Slife has done so well at BYU is his excitement for and dedication to integrating his faith with his discipline.
As a young boy growing up in a small Missouri town, Brent Slife showed that to him, critical thinking and religious faith were not separate issues. He gained strength from his mother, a devout Christian who was continually supportive and encouraging of his quest for spiritual knowledge. When he was 12, preparing for confirmation into the Methodist church, he was asked to sign a document affirming his agreement with 25 key tenets of belief. He took the document home and spent several days studying and asking religious leaders in the community about it. When his skepticism was met with ridicule and judgment, he decided that he was an atheist.
When he grew up and went to college, Brent found himself returning to his Christian faith. His study of philosophy seemed to take him back to the beliefs he had held as a child, but this time they were supported by both intellectual and spiritual knowledge. As he continued his study of psychology, Dr. Slife was surprised at how unwelcome faith was in the discipline, even in examining seemingly subjective topics such as ethics and love. He determined that spirituality cannot be divorced from psychology. This belief has made him unique and effective in his teaching—especially at BYU—and in his private psychotherapy practice, where he specializes in marriage and family therapy.
Before coming to Provo, Dr. Slife taught for many years at Baylor University, where he served as the director of clinical training. There he also won several prestigious awards for his contributions. Throughout his accomplished career, he has been on the editorial board of eight different journals, authored or coauthored over 200 articles and 8 books, and been a fellow of several professional organizations, including the American Psychological Association, which awarded him the Presidential Citation.
Brent Slife constantly expresses his gratitude for his blissful marriage to his wife Karen, whom he "diagnoses" as "severely cute." He is still very much in love with her, and their relationship has added tremendously to his insights about love and relationships. They are proud parents and grandparents and love spending time with their family.
---
---