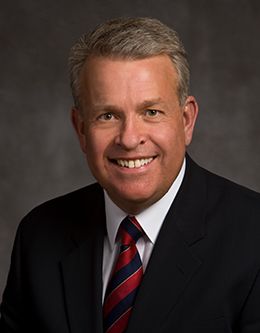 Brent H. Nielson
of the Seventy
When Elder Brent H. Nielson graduated from BYU, he was filled with fear and trepidation toward his future. Life was not exactly the way that he had pictured it, but, despite setbacks and challenges, he had hope for a bright future. As stated in his speech "Where Your Heart Is," he learned through experience that "As you move forward with faith in God, you will not be able to comprehend adequately the joy and happiness that await you and that God has prepared for you."
Elder Nielson was born December 8, 1954, in Burley, Idaho. As a young man, he served as a missionary for the LDS Church in Finland. On returning home from his mission, Elder Nielson graduated magna cum laude from Brigham Young University with a bachelor of arts degree in English in 1978. Though he knew he would one day attend law school, Elder Nielson's plans for the future changed when his father passed away from pancreatic cancer two weeks after graduation. This event led him to turn down admission to a law school in Washington, DC, that he had hoped to attend in favor of being close to his widowed mother. Another opportunity presented itself, and he attended the University of Utah and received a law degree in 1981. He practiced law for 29 years in Twin Falls, Idaho, as a partner in Roy, Nielson, Barini-Garcia and Platts, where he specialized in worker's compensation, bankruptcy, business, and personal injury.
Elder Nielson met his wife, Marcia Bradford, when they were students at Brigham Young University. They were married in the Salt Lake Temple in 1978 and are the parents of six children. Elder and Sister Nielson have always made religion a priority in their lives and decided their family's motto to be the Savior's admonition to "Seek ye first the kingdom of God, and his righteousness; and all these things shall be added unto you. (Matthew 6:33).
When he was 27 years old, Elder Nielson was called to serve as a bishop. At age 30, he was called to the stake presidency where he served in various positions for the next 20 years as his young family grew. In 2005, he became an area seventy in the Idaho Area and a member of the Fifth Quorum of the Seventy. In this position, he was involved with the planning of the Twin Falls Idaho Temple, for which he served as committee coordinator. He was called to full-time Church service in 2009, and he accepted the invitation to serve in the First Quorum of the Seventy. As a general authority seventy, he has served as a counselor in the Pacific Area and counselor and president of the Philippines Area. He has also served as executive director of the Church's Missionary Department.
Reflecting on his own graduation and the wonderful things that have happened in his life since then, Elder Nielson gave the following advice to new graduates in 2018: "Look beyond yourself. This is the key to becoming like Christ. Don't have yourself, your accomplishments, or your fears as your treasure; rather, focus on others and their needs."
---
---