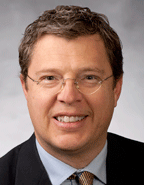 Brett G. Scharffs
Brett Scharffs is professor of law at the J. Reuben Clark Law School at Brigham Young University, Associate Dean for Faculty and Curriculum, and Associate Director of the International Center for Law and Religion Studies.
Professor Scharffs is a graduate of Georgetown University, where he received a BSBA in international business and an MA in philosophy. He was a Rhodes scholar at Oxford University, where he earned a BPhil in philosophy. He received his JD from Yale Law School, where he was senior editor of the Yale Law Journal.
Professor Scharffs was a law clerk on the U.S. Court of Appeals, D.C. Circuit, and worked as a legal assis­tant at the Iran–U.S. Claims Tribunal in The Hague. Before teaching at BYU, he worked as an attorney for the New York law firm Sullivan & Cromwell. He has previously taught at Yale University and the George Washington University Law School and is a recurring visiting profes­sor each year at Central European University in Budapest.
In his 12-year academic career, Professor Scharffs has written 50 articles and book chapters and has made more than 150 scholarly pre­sentations in 20 countries. He is currently finishing two books—Law and the Limits of Logic and Law and Religion: U.S., International, and Comparative Law Perspectives—and is also program chair of the Law and Religion Section of the Association of American Law Schools (AALS).
He and his wife, Deirdre Mason Crane Scharffs, are the parents of three children.
Show More
Talks by Brett G. Scharffs