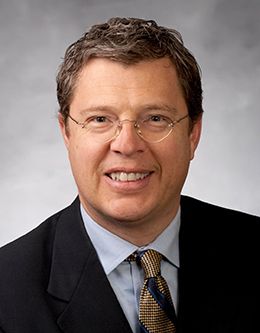 Brett G. Scharffs
Brett G. Scharffs has led a life of intense study complemented by faith. He earned a bachelor's degree in international business and a master's degree in philosophy from Georgetown University. He then went to Oxford University as a Rhodes scholar and attended Yale University to earn a juris doctorate. While there, he was the senior editor of the Yale Law Journal. He graduated in 1988—on the same day that his wife, Dierdre, graduated with an MBA from Yale. They have three children and make a great team.
Scharffs began his legal career clerking for David B. Sentelle of the United States Court of Appeals. In Washington, DC, he worked as a legal assistant at the Iran-U.S. Claims Tribunal in The Hague. He then became an attorney at a New York law firm. From there he taught law at Yale University and George Washington University before joining the faculty at Brigham Young University. At BYU, he is the Francis R. Kirkham Professor of Law, associate dean for research and academic affairs at the J. Reuben Clark Law School, and director of the International Center for Law and Religion Studies.
A decorated scholar, Scharffs has been a visiting professor at Central European University in Budapest, Hungary, the University of Adelaide in Australia, and Doshisha University in Kyoto, Japan. In partnership with Peking University, he has helped organize a certificate training program on religion and the rule of law in Beijing as well as similar programs in Vietnam and Myanmar. He is working to organize a master's course on sharia law and human rights with two universities in Indonesia. Scharffs has served as the chair of the law and religion section of the Association of American Law Schools and on several other prominent boards. He has written more than 100 articles and book chapters, has coauthored a field-creating casebook on law and religion, and has given over 300 presentations in 30 countries.
In his studies and travels, Brett G. Scharffs focuses on the crucial relationship between law and religion. In doing so, not only has his scholarly expertise been refined but also his faith. He has told BYU students that faith, hope, and charity are the most important three things in the world. Scharffs's experiences have given him a greater appreciation for diverse world religions as well as for the singular appeal of the doctrine of The Church of Jesus Christ of Latter-day Saints.
---
---