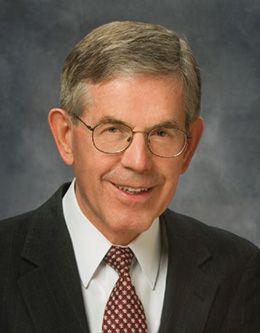 Bruce C. Hafen
Bruce Clark Hafen was born October 30, 1940, and grew up in St. George, Utah. He graduated with an associate's degree from Dixie College in 1960 and served as a missionary for The Church of Jesus Christ of Latter-day Saints in the West German Mission. When he returned, he earned a bachelor's degree from Brigham Young University and then a juris doctor from the University of Utah.
Family was always important to Bruce Hafen. His father passed away while Bruce was a young man, giving his appreciation for his parents' example even more poignancy. In a religion class at BYU, Bruce met Marie Kartchner, whom he readily recognized as a woman who loved the Lord. In turn, she recognized his keen mind, sound judgment, and wonderful sense of humor. The two were married in 1964 in the St. George Temple. They raised seven children together in a home where music, outdoor fun, and the gospel tied everyone together in love.
After practicing law in Salt Lake City for four years, Bruce C. Hafen returned to BYU to be an assistant to President Dallin H. Oaks. In 1973 he helped establish BYU's newly founded law school, teaching on its first faculty. He then served as the director of evaluation and research for the Church's Correlation Department before becoming the president of Ricks College in 1978. While at Ricks, he was also president of the American Association of Presidents of Independent Colleges and Universities, as well as a commissioner on the Northwest Commission on Colleges and Universities, the regional accrediting authority for higher education institutions in seven northwestern states. His experience on these committees was a great asset not only at Ricks but also in his later administrative roles at BYU.
Elder Hafen presided over Ricks College until 1985, and despite his administrative duties, he made sure to teach at least one class each semester. As he would later say at many BYU University Conferences, he believed that no matter how good a school was in its research or programs—which were indeed important—there was no substitute for dedicated, high-quality teaching in higher education.
Elder Hafen's contributions to Church education and BYU in particular continued to expand. He became the dean of the J. Reuben Clark Law School, where he helped create the J. Reuben Clark Law Society, which now encompasses over 10,000 members worldwide. An endowed professorship and an endowed annual lectureship were established in his name. In 1989 he was named the provost at BYU. One of his most notable contributions in that capacity was working with faculty to develop a policy blending BYU's institutional academic freedom as a religious university with the academic freedom of individual faculty members.
Bruce C. Hafen's own scholarship focused on family relationships; he wrote and taught extensively about family law and education, especially the legal rights of children. His work was largely in response to a need he saw in society, saying that "gospel perspectives on family life are desperately needed today in courtrooms, classrooms, and family rooms all over the world." A nationally renowned scholar, his articles appear in such publications as the Harvard Law Journal, the Duke Law Journal, and the American Bar Association Journal, and he was even cited in opinions of the United States Supreme Court.
In addition to his scholarly and administrative work, Bruce C. Hafen continued to serve extensively in the Church. After serving in a bishopric and stake presidency and as a regional representative, he was called as a general authority seventy in 1996. As a member of the seventy, he presided over the Australia/New Zealand and the Europe Central areas. He also served in the presidency for the North America Central Area and as an adviser at Church headquarters to the Church History, Temple, and Priesthood Departments. He has written numerous books on gospel topics, including a trilogy on the Atonement of Jesus Christ and a biography of Elder Neal A. Maxwell. He was granted emeritus status in 2010, and he served from then until 2013 in his hometown as the president of the St. George Temple.
In his addresses at BYU, Elder Bruce C. Hafen tackles subjects such as religious doubt, romance, and feminism—and the role of the gospel in each subject. He also delivers some powerful addresses specifically to faculty, inspiring love for individual students, the vision of the university's potential, and the passion for excellence that he himself embodies. Each of his addresses is marked by eloquent thoughtfulness and pervasive care for both the educational institution and the individual that make up his audience.
---
---