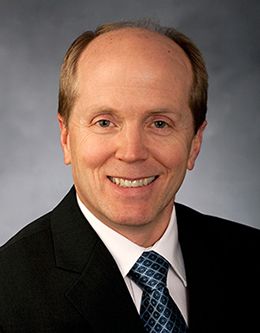 C. Jeffrey Belliston
C. Jeffrey Belliston is the assistant university librarian for Scholarly Communication, Assessment, and Personnel in the Harold B. Lee Library. He joined the library in 1999, having previously worked as a library consultant for Ameritech Library Services and as a cataloger of Spanish and Portuguese language materials for the Family History Library.
Jeff's BA in history (BYU, '85) and MAT in social studies education (Brown University, '86) prepared him to be a high school history teacher. He taught in both Utah and Maine before taking a commis­sion as a foreign service officer with the U.S. Department of State. After a single tour of duty as a vice consul in the U.S. Embassy in San Salvador, El Salvador, he resigned his commission and returned to Utah. Shortly thereafter he married Bonnie Sue Ashby and enrolled in library school at BYU. He graduated in 1993 with his master's degree in library and information science.
As an undergraduate Jeff worked in the Lee Library for a little over two years. His professional interests are in the lifecycle of scholarly information, par­ticularly the open access dissemination of scholarship, and in the profound changes that digital technologies have brought and are bringing about in libraries. He received the Faculty Librarianship Award in 2008.
He served a mission in the Florida Tallahassee Mission and has since served in the Church as an elders quorum instructor and president, executive sec­retary, Sunday School teacher, bishop's counselor, and ward clerk.
---
---