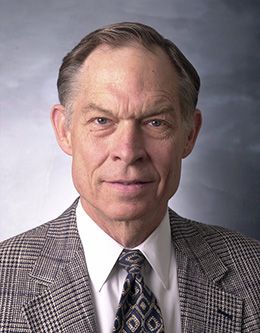 C. Terry Warner
Dr. C. Terry Warner, a native of San Francisco, grew up with a stutter so severe that he felt he could scarcely talk. In his BYU address "Honest, Simple, Solid, True," he explains that as a compensatory measure he became "brash, loud, boastful, and competitive." Overcoming his stutter took years of hard work. While studying acting in New York at the Stella Adler Studio, he contemplated how overcoming his stutter had led to a mental reformation; he realized his desire to be a good and honest person was stronger than his desire to impress his fellowmen. This realization inspired a life of service that left those around Dr. Warner better for having known him.
After serving a full-time mission to Great Britain, Brother Warner earned a BA in history from Brigham Young University and a PhD in philosophy from Yale. He then became a member of the BYU faculty in 1967, where he acted as professor of philosophy, chair of the Philosophy Department, director of the Honors Program, and dean of the College of General Studies. For his work he was awarded Professor of the Year, Honors Professor of the Year, and the Karl G. Maeser Excellence in Teaching Award.
Brother Warner spent several years working with a team of students on the Education in Zion gallery, an exhibition that can be found in BYU's Joseph Fielding Smith Building. This exhibit, which required years of research, gave Brother Warner and his team incredible insight into the first educators and schools in Utah. He shares this experience in his BYU devotional "Education for the Whole Soul."
Dr. Warner is also known for his research and leadership in the field of business management. In the 1970s he led a team of researchers and scholars to discover the problem he believed was at the center of our negative emotions, behaviors, and self-deception. By 1979, this group became known as the Arbinger Institute and began consulting with organizations big and small in an effort to change the mindset of managers and employees. Rather than focusing on behaviors, the institute focuses on changing the person responsible for those behaviors. This research is reflected in Warner's authored book Bonds That Make Us Free: Healing Our Relationships, Coming to Ourselves.
Dr. Warner and his wife, Susan, served a public affairs mission to West Africa. Together they have 10 children.
---
---