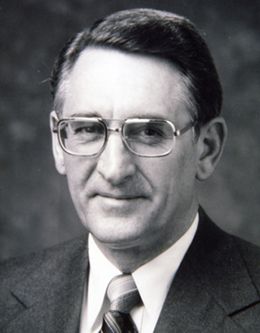 Carlos E. Asay
Carlos Egan Asay was born June 12, 1926, in Sutherland, Utah. He was raised in Monroe, Utah, another small town south of Utah County. It was later said of Carlos E. Asay that perhaps his high aspirations in life stemmed from living in a place where he could see many stars at night and ponder the magnitude of the universe.
After serving in the army during World War II, Carlos E. Asay attended the University of Utah. He earned a bachelor's degree there and also played on the basketball team that won the NIT championship in 1947. That same year, he married Colleen Webb. Almost immediately after their wedding, he was called as one of the first missionaries to serve in Palestine, Syria, and Lebanon. He learned Armenian there and served for three years before returning home to his family, which would eventually grow to include eight children.
Ambition for further education took Carlos E. Asay to California State University, Long Beach, where he earned a master's degree before returning to the University of Utah for a doctorate. President Gordon B. Hinckley said at his funeral that few people even knew Asay had a doctorate; his humble nature sought education over titles.
Carlos E. Asay worked as a teacher and administrator in public high schools before joining the faculty at Brigham Young University in Provo. Later, he was appointed as an assistant dean for BYU–Hawaii. He also served extensively in the Church as a bishop, regional representative, and member of the Sunday School general board. He was the president of the Texas North Mission from 1970 to 1973 and later served as president of the Church's International Mission.
In 1976 ,Carlos E. Asay was called as a general authority. His many assignments over the ensuing years included heading the church's missionary department, serving twice (totaling about 13 years) on the Presidency of the Seventy, serving as the executive director of the Church's curriculum department, and presiding over the Europe Area.
Continuing to serve after being granted emeritus status in 1996, Elder Asay became the president of the Salt Lake Temple. He passed away on April 10, 1999 from a heart attack. In his devotional addresses at BYU, Elder Asay counseled students to take advantage of the opportunities life gave them and to keep their sights fixed on eternal principles and promises.
---
---