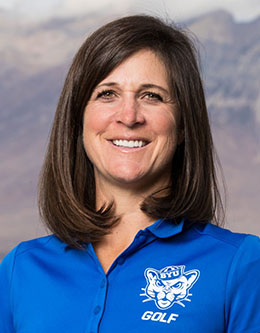 Carrie Roberts
Carrie Roberts is the BYU women's golf coach. She graduated with a bachelor's degree in community health from BYU in 2002. After her graduation, she qualified for the Ladies Professional Golf Association (LPGA) Tour and spent the following two years as a pro golfer, traveling with her husband to each competition. Her husband took time off of school to help support her; they were able to be together during a busy time in their lives. She and her husband have always worked hard to balance their home and work lives, doing their best to support each other's dreams and assist each other at every turn.
When the women's golf team qualified for the 2016 NCAA Division I Women's Golf Championship, it sparked conversations about the team's policy of not playing on Sundays. The NCAA is required to accommodate team preferences. Many found the preference controversial, claiming that if BYU played on a different day than the rest of the competitors, the weather conditions may favor them more and enable them to move forward in the championships, perhaps undeservingly. Roberts wholeheartedly defended her team's choice to not play on Sunday. She said of the controversy and criticism, "The only people that see it as an advantage look at the weather, and they say if BYU gets through (to match play), then it was an advantage. Well, no. If we get through, it's because we're talented," (Golfweek, 2016). Roberts has always stood firmly behind her beliefs and supported the women's golf team by encouraging them to do their best even without playing on Sundays.
In her 2019 devotional, Roberts encouraged her audience to pursue their "why" in  moving forward in life with a defined and distinct purpose and passion. She addressed the importance of agency and our ability to change our lives if we don't like the direction we are headed. Her words were powerful and inspiring, motivating students and faculty to move forward towards their ultimate life goals. She is an incredible example of faith and perseverance, proving that any goal can be accomplished if you are willing to work hard.
---
---