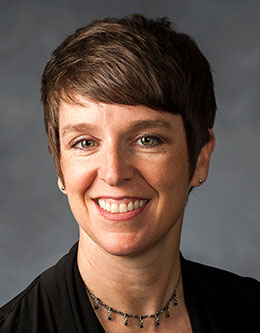 Cassy Budd
Cassy Budd graduated from the accounting program at Brigham Young University in 1990. After working as an audit manager and director of human resources at PricewaterhouseCoopers for over ten years, she went back to school and earned a master's in accounting from Utah State University, graduating in 2002 with an emphasis in personal financial planning. From there she returned to both of her alma maters to teach.
Cassy Budd has proven to be a successful, creative, and passionate teacher. She taught for three years at USU and then came to teach in the BYU Marriott School of Management. Among many prestigious awards, she was named Advisor of the Year at USU and was given the Teaching Excellence Award at BYU. She also stays very involved in her field. In 2014 she spent seven months preparing emergent IPO companies to enter the big stage. She serves on several boards within the Marriott School and on regional committees and is the president-elect of the teaching, learning, and curriculum section of the American Accounting Association.
Outside of her career, Cassy Budd finds her greatest joys and accomplishments with her family. As a student she met her husband, Spencer, in a BYU ballroom dance class. He is a sculptor, painter, and gymnastics instructor at BYU. They hold season tickets to BYU football and basketball games as well as the BYU Arts pass. They have four children and the family enjoys hiking, biking, skiing, talking, singing, laughing, and eating great food.
These outdoor activities are only some of the talents Cassy Budd has outside of accounting and teaching. She speaks Italian, is physically active, and loves music. One of the talents she has picked up is how to play the ukulele, which she sometimes uses to make up educational songs for her classes. Her "The Cash Flow Song" has thousands of views on YouTube. Always looking for new ways to be an involved teacher, Cassy Budd makes her classes fun. Her favorite part of teaching is watching students learn from their mistakes.
Cassy Budd has a deep testimony of the gospel and especially of Christ's ability to help us overcome mistakes and reach our potential. In her devotional address she shared how her personal experiences have taught her to rely others, especially the Savior, and to never give up.
---
---