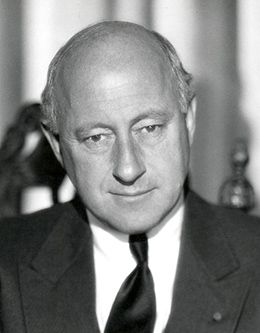 Cecil B. DeMille
Cecil Blount DeMille was born August 12, 1881 in Ashfield, Massachusetts—but his parents were only vacationing there; he grew up in Washington, North Carolina. His family was anything but average; both of his parents were playwrights who had met because of their love of theater. His mother had a German Jewish background, his father Episcopalian. They reared their children in an Episcopalian home, and it was this religious background that created the set for many of Cecil's future motion picture creations. The de Milles (the surname shared by the family; Cecil later adopted the spelling DeMille for his stage name) were no strangers to heartache, but they never let it stop them from pursuing their passion. Cecil had one older brother and one sister, Agnes, who died in childhood. His father also passed away when Cecil was quite young, and his mother opened an acting workshop in her home to commemorate her late husband's dedication to the dramatic arts.
At age 15, Cecil B. DeMille began attending the Pennsylvania Military College. He also graduated alongside his brother from the American Academy of Dramatic Arts. He then began his career as a stage actor in 1900. In 1902, Cecil B. DeMille married Constance Adams. They had one daughter, Cecilia, and later adopted another daughter and two sons—all of whom eventually followed their parents into acting and filmmaking careers. The beginning of Cecil B. DeMille's stage career was rocky, and changes in the world of theater hindered his success. After only a few years, he decided to debut in the emerging world of film.
His first film, The Squaw Man, produced in 1914, proved to be a pioneering work in many ways—it featured an interracial love story, it was three times longer than the standard film of the day, and it was the first film shot in Hollywood, California. It was very successful, and it became the beginning of a series of silent films through which Cecil B. DeMille built a lasting and lucrative name.
Cecil B. DeMille continued to work on the cutting edge of advances in the film industry. To facilitate the transition from silent to talking films, he developed a soundproof camera blimp and a microphone boom; later, he embraced the advent of technicolor and refused to film in black and white after 1940.
The success of his films enabled Cecil B. DeMille to pursue additional ventures; he opened one of the country's first commercial airlines, speculated in real estate, and worked as a political campaign underwriter and an executive at the Bank of America. He was also very politically active and an involved member of the Freemasons. He would later be commissioned to design the cadet uniforms for the United States Air Force Academy.
As a director, Cecil B. DeMille expected much of his actors and actresses. He was dedicated enough to his art to take risks, and he required the same of those who worked with him. In turn, though, he was loyal and made many of them into stars. His career eventually included 70 features in all genres, making him the most commercially successful producer and director in film history. Today, he is hailed as a founding father of cinema in the United States. He received many of the first Academy and Golden Globe Awards, and many future film awards were named in his honor.
Some of Cecil B. DeMille's favorite themes for films were biblical. From his childhood, religion was very fundamental to him; though he didn't often attend church, he had a solid belief in prayer and wanted to create movies that would encourage people to read the scriptures.
Cecil B. DeMille passed away January 21, 1959, from a heart condition. Just two years before his death, and shortly after the release of his last film, The Ten Commandments, he delivered a commencement address at Brigham Young University. In his address, he compares the exodus of the Israelites under Moses's direction to that of the Mormon pioneers under the direction of Brigham Young. He gleans valuable lessons from both legacies of faith and encourages his audience to live up to the tradition and message they embody.
---
---