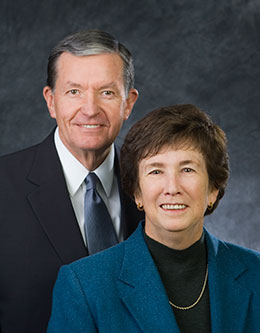 Cecil O. and Sharon G. Samuelson
Cecil O. Samuelson, 12th president of Brigham Young University, is a Salt Lake City native who has served at the University of Utah as professor of medicine, dean of the School of Medicine, and vice president of health sciences. Prior to his call as a full-time General Authority of The Church of Jesus Christ of Latter-day Saints, he was senior vice president of Intermountain Health Care. He holds a bachelor of science degree, a master's degree in educational psychology, and a medical degree from the University of Utah.
Elder Samuelson was called in 1994 to serve the Church of Jesus Christ as a member of the First Quorum of the Seventy. On October 1, 2011, he was granted General Authority Emeritus status. At the time of his assignment to BYU he was a member of the Presidency of the Seventy. He has served the Church of Jesus Christ also as a regional representative, stake president, stake high councilor, branch president, and missionary and as an area president in the Utah North Area and the Europe North Area.
Sharon Giauque Samuelson is also a Salt Lake City native. She graduated in history education from the University of Utah and taught school to help support her husband through his early years of medical school. She has been active in the community and has served in different capacities in all of the auxiliary organizations of the Church.
Elder and Sister Samuelson have five children and 14 grandchildren.
---
---