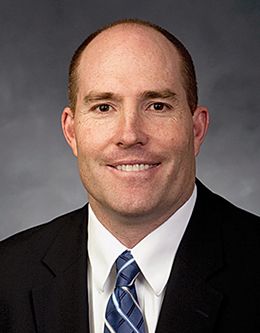 Chad Lewis
Chad Lewis is the associate athletic director of development at BYU. He grew up in Orem, Utah, with a dream to play football for BYU. He served as a missionary in the Taiwan Taichung Mission and says being a missionary changed his life in every good way.
When he came home from Taiwan he enrolled at BYU and walked onto the BYU track team as a high jumper. He quickly changed sports and made the football team as a walk-on. His favorite move on the football field was jumping over defenders. Chad said that playing for LaVell Edwards and wearing the BYU uniform was one of the great honors of his life.
At BYU he met his wife, Michele Fellows, who was a two-time All-American for the BYU women's volleyball team. They married in the Las Vegas Temple and have since raised seven wonderful, and very tall, children.
Chad played for nine years in the NFL, helping the Philadelphia Eagles get to the Super Bowl with two touchdowns in the NFC championship game. He was selected to the Pro Bowl three times. His head coach was Andy Reid, who also played football at BYU.
Chad worked as the general manager for Century Steel for two years. After Century Steel was acquired, he left the industry to write his book Surround Yourself with Greatness, published by Deseret Book. Chad serves as an ambassador for the NFL around the world, especially in China.
---
---