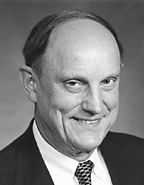 Charles A. Didier
Elder Charles Didier was called  to be a member of the First Quorum of the Seventy in October of 1975. He currently serves as a member of the Presidency of the Seventy and as Area Supervisor of the North America Southwest Area.
Elder Didier previously held supervisory positions for the Church in western Europe, was regional representa­tive, and served as president of the France/Switzerland Mission from 1970 to 1973. When he presided over the South America North Area from 1987 to 1991, he and Sister Didier resided in Quito, Ecuador. He subsequently served as second counselor in the Utah North Area Presidency, in the Presidency of the Seventy at Church headquarters, as President of the Europe East Area, and as a member of the Utah South Area Presidency.  Didier was designated as an emeritus general authority in the October 2009 general conference.
A native of Belgium, Elder Didier joined the Church in 1957. He holds a bachelor's degree in economics from the University of Liege and served as an officer in the Belgian Air Force Reserve.
Prior to his call as a General Authority he was employed by the Church as European manager for translation and distribution in Frankfurt, Germany. He speaks several languages.
Elder Didier and his wife, Lucie, are the parents of two sons.
Show More
Talks by Charles A. Didier