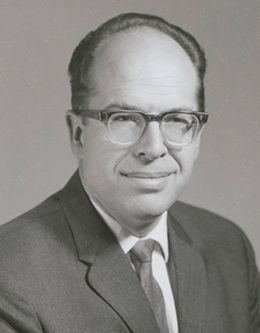 Chauncey C. Riddle
Chauncey C. Riddle is an American author, professor, and religious leader. He has written many articles for the Ensign, Sunstone, BYU Studies, The Encyclopedia of Mormonism, Deseret Language and Linguistics, and FARMS. He is also the author of a book and countless articles and essays.
At the age of 19, Riddle was drafted into the military. He had tried to enlist previously but was denied entry due to his poor eyesight. The military's previous decision was rescinded without explanation, and Riddle was welcomed into the army the day after World War II came to its long-awaited end. The conclusion of the war made it unnecessary for Riddle to serve in combat, and he instead worked as a clerk in Salt Lake City. After one year of service in this position, he was discharged from the army and returned to his education.
Riddle and his wife, Bertha, moved to Provo following his military release so that Riddle could complete his undergraduate degree at BYU. Within a year, Riddle had graduated and moved with his wife to Nevada. There he worked for his father's company, Yellow Cabs of Nevada, as a taxi driver, tour guide, and assistant manager. After two years in Nevada, Riddle decided to further his education in New York at Columbia University. Due to his military service, Riddle's education was paid for by the GI Bill. The GI Bill was a huge financial help to the couple, but they still could not afford to live in New York. As a result, Riddle lived in New York and attended school while Bertha lived with her parents in Utah. The couple would be separated for months at a time, and over one Christmas season Riddle's newborn son passed away while he was still at school. He was able to come home for the funeral but had to quickly return to Columbia to make up missed final exams and continue his studies.
When they were finally able to afford to move together to New York, the couple joyfully packed up their car and drove across the country to their new home. Bertha watched the children and introduced them to the diverse beauty of New York while Riddle worked hard toward his degree in philosophy. As he had not studied philosophy at BYU, he had to work hard to catch up with his class material. He chose philosophy in hopes of one day teaching at a university, and his hard work made that dream come true.  Riddle went on to join the BYU faculty after graduating with his PhD from Columbia University. He was a member of BYU's faculty for forty years, serving as a professor of philosophy, as chairman of the department of graduate studies in religious instruction, as dean of the graduate school, and as academic vice president.
Riddle is considered one of the three greatest teachers to grace the halls of Brigham Young University in his generation. He has left a profound mark on the world by teaching countless students to come up with their own answers to philosophical questions rather than stuffing their minds full of knowledge they would likely forget—or, as he said in his book Think Independently, "to think in this world, but not think with it."
---
---