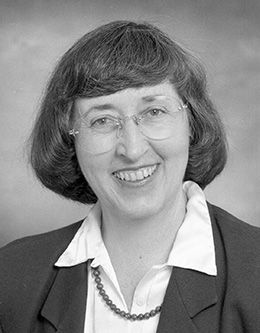 Cheryl Brown
Dr. Cheryl Brown grew up in Cedar City, Utah, as the youngest of 10 children. She is now the aunt of more than 100, including over 20 currently enrolled university stu­dents, in whom she delights. She earned an associate's degree in liberal arts from Southern Utah University, a BA in American studies and an MA in English from Utah State University, an MA in teaching English as a second language from BYU, and a PhD in applied linguistics from UCLA. In 1992 she was awarded a Fulbright lectureship to two Chilean uni­versities. She has also taught and researched in Mexico, Japan, Israel, and Palestine. Dr. Brown has previously served as associate dean of the College of Humanities.
Among other honors, she has been awarded the Intermountain TESOL Distinguished Service Award, the Karl G. Maeser Distinguished Teaching Award, and the James L. Barker Lectureship in Languages and Linguistics. In December a book she coauthored won the Modern Language Association's 1996 Mildenberger Award for the best book on research in the teaching of foreign languages.
In addition to her Linguistics Department teaching assignments, Dr. Brown has taught religion classes for a number of years. She has served a full-time mission to Chile and in various call­ings in her local wards and stakes. She is currently serving (for the sixth time) as a ward Relief Society president.
---
---