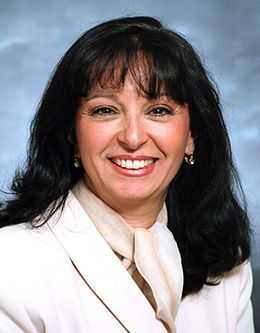 Cinzia Donatelli Noble
Cinzia Donatelli Noble was born in Pescara, Italy. She met the missionaries in 1974 and was baptized a member of the Church in March of 1975. In 1976 she came to the United States and BYU to enroll in an inten­sive course of English as a second lan­guage. While here, she began dating Randy Noble, and they were married in the Salt Lake Temple in June 1977. They are now parents of two children.
Dr. Noble graduated cum laude with a doctoral degree in classical letters in 1979. She began her teaching career at BYU in 1980. She taught classes in Italian later served as chair of BYU's Department of French and Italian. She was recognized as Outstanding Teacher in 1985 and as Teacher of the Year in 1997.
Professor Noble's scholarly research focused on contemporary Italian literature and Italian phonet­ics. She has written two books: one on Cesare Pavese and American litera­ture, and one on Italian pronunciation and phonetics.
Sister Noble has held various Church callings, such as Young Women president and counselor, Primary teacher, Gospel Doctrine teacher, and Sunday School secretary and teacher. Her hobbies include skiing, bicycling, and travel, and she especially enjoys attending her daughter's dance performances and her son's soccer games.
---
---