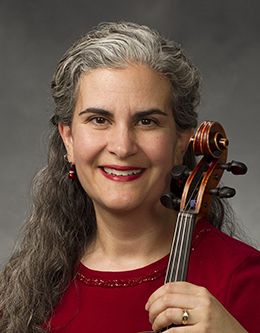 Claudine Bigelow
Claudine has played with the viola sections of the National and Utah Symphonies, Smithsonian Chamber Orchestra, National Chamber Orchestra, and at the National Gallery of Art in Washington, D.C. In addition, every summer she performs with the Grand Teton Music Festival.
Professor Bigelow received her DMA from the University of Maryland, College Park and her MM and BM from BYU. At the University of Maryland she participated in an intensive chamber music program coached by the Guarneri String Quartet.
In 2012 Claudine was chosen to be a Fulbright senior scholar, where she served as artist in residence at the Te Kōkī New Zealand School of Music in Wellington. The culminating project was a CD recording made with the New Zealand violist Donald Maurice, called Voices from the Past.
Claudine served on the executive board of the American Viola Society for seven years and has also been president of the Utah chapter. Her articles have appeared in The Strad, Journal of the American Viola Society, American String Teacher, and Strings Magazine.
She and her husband, Mark, a stained-glass artist, have three children.
---
---