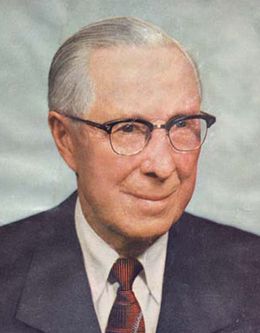 Clifford E. Young
Born in 1883 in Salt Lake City, Elder Clifford E. Young was engaged throughout his life in remarkable Church service. As the son of Church leader Seymore B. Young and great-nephew of President Brigham Young, Elder Young grew up surrounded by individuals who set an example of selfless service and dedication to God.
Elder Young served a mission in England from 1905 to 1908. Three years later, in 1911, he married Edith Grant, daughter of President Heber J. Grant. Together they had four children. Elder Young was a participant in civic activities and was well known throughout the Utah business community. He served as the welfare chairman of the central Utah region, which was later divided into several regions as the area continued to develop.
In addition to his secular responsibilities, Elder Young was actively involved in Church service. He was called in 1928 to serve as the president of the Alpine Utah Stake and was later asked to be one of the first five individuals who would serve as assistant to the Quorum of the Twelve Apostles. He served in this position until his death in 1958.
In his spare time, Elder Young enjoyed participating in community service and singing as a member of the Mormon Tabernacle Choir. He was a lively and inspired speaker who engaged the BYU audience on multiple occasions, speaking of the dire need for every individual to have personal integrity, and he was an advocate for the Church's welfare program.
---
---