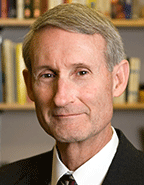 D. Kelly Ogden
For a span of 14 years D. Kelly Ogden helped administer BYU's study programs in the Holy Land and guided students on field study trips all over Israel/Palestine, the Sinai, Egypt, Jordan, Turkey, and Greece.
Professor Ogden earned a BA in English and Spanish, an MEd in international education, an MA in Hebrew language and historical geography of the Bible, and a PhD in Middle East studies. He has presented numerous scholarly papers and is the author of several books about Jerusalem and the Holy Land. His articles have appeared in the Ensign, the Liahona, the Church News, the Encyclopedia of Mormonism, and other LDS and non-LDS publications. He has been a frequent participant in the BYUtv scripture discussions.
Professor Ogden helped prepare the LDS editions of the scriptures and served on the Gospel Doctrine Writing Committee for the Church. He served as president of the Jerusalem Branch in Israel, as a branch president at the Missionary Training Center in Provo, as a counselor in a BYU stake presidency, and as president of the Chile Santiago East Mission. He has also served as president of the Guatemala Missionary Training Center and as a temple ordinance worker and is now a sealer in the Provo Temple.
He and his wife, Marcia Hammond Ogden, are the parents of four children and have eight grandsons.
---
---