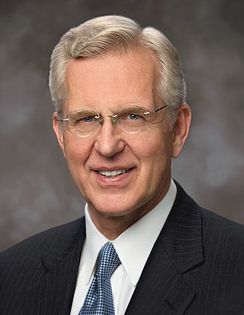 D. Todd Christofferson
of the Quorum of the Twelve Apostles
Early Life
D. Todd Christofferson has an entrenched testimony that God is our greatest ally. He believes deeply in the power of prayer: "Sometimes it's all we have left, but it's always sufficient for the need."1 Born on January 24, 1945, in Pleasant Grove, Utah, Christofferson developed this testimony of communion with Heavenly Father early on. When he was thirteen years old, his mother underwent a debilitating surgery for cancer, and his parents remember him gathering his siblings to pray for her; they also remember him following up that prayer with action. Seeing that his mother's surgery had left her unable to do certain household jobs that were important to her, he asked his grandmother to teach him how to make bread. He continued to make bread for his family until he left for college.
A few years later, Todd had another defining moment of prayer. His family moved to Somerset, New Jersey when he was fifteen years old, and he participated in the Hill Cumorah pageant for The Church of Jesus Christ of Latter-day Saints for two summers. During one of these summers, he determined to receive his own witness of the truthfulness of the gospel. He entered the Sacred Grove and prayed diligently for over an hour but felt nothing. Dejected, he wondered why his prayer had not been answered. A month later, however, as he was reading the Book of Mormon at home, he felt an unmistakable assurance that the Book of Mormon was true, and that Joseph Smith was a prophet of God. He then determined that "we can't dictate to God when, where, or how He will speak to us,"2 but that He will answer our prayers.
Education, Church Service, and Career
After graduating high school in New Jersey, D. Todd Christofferson enrolled at Brigham Young University as an Edwin S. Hinckley scholar. He left school for two years to serve a mission in Argentina, where he developed a deep love for the people of Latin America and where he learned from two influential mission presidents—one of them Elder Richard G. Scott. When Elder Christofferson returned from his mission, he met Katherine Jacob. He looked her up in BYU's yearbook and asked her out, and they were eventually married in the Salt Lake Temple in 1968. He says that even compared to the feelings of love and admiration he had for her at the time of their marriage, as the years have gone by he has been "happily surprised" how much better she is than he had even realized.3
The Christoffersons both graduated from BYU the following year, 1969, and the Christoffersons moved to the South, where they would spend many years. Elder Christofferson earned a juris doctorate from Duke University and began a successful law career as a clerk for U.S. district judge John J. Sirica. Judge Sirica went on to preside at the Watergate trials, during which Christofferson became indispensable. Because of this, he clerked longer than planned. Elder Christofferson then fulfilled an active duty requirement for the U.S. Army, after which he spent eight years in the reserves, finishing as a captain. From 1975 to 1980, he practiced law in Washington, D.C.
Elder Christofferson's career continued to progress, and he assumed the role of senior vice president and general counsel for Commerce Union Bank of Tennessee in Nashville. While there, he was also heavily involved in community affairs and interfaith organizations. From there, he became the associate general counsel for NationsBank (now Bank of America) in Charlotte, North Carolina. As his career advanced, he also took on new roles of responsibility in the Church, serving as a bishop, stake president, and regional representative.
Despite these intense time commitments, the Christoffersons' five children recall Elder Christofferson making fatherhood a top priority. When they were little, they learned about history through role-play and dress-up. As they got older, their father continued to teach them lovingly. One child said, "While Dad had high expectations of us, he was never preachy. He was very loving and low-key. He was very happy, and he wanted us to be happy."4
In 1993, D. Todd Christofferson accepted the call to dedicate his life to the Lord's service as a General Authority of the Church. He served as the Area President for the Mexico South Area, further enhancing his love for Latin America and then served in the Presidency of the Seventy, beginning in 1998. There he supervised the North America West, Northwest, and Southeast Areas. He was also the executive director of the Family and Church History Department. He was called to the Quorum of the Twelve in 2008.
In his first BYU devotional, Elder Christofferson said, "It is yielding to the discipline of God's will and His love that brings true freedom—the freedom to excel, to create, to bless."5 This statement is characteristic of his bold loyalty to the Lord and His gospel. As with his early experiences in prayer, Elder Christofferson's faith is accompanied by action. He exemplifies this principle, finding increased potential and joy through adherence to God's commandments and faithfulness in His service.
[1]Elder Quentin L. Cook, "Elder D. Todd Christofferson: Prepared to Serve the Lord," Ensign, August 2008.
[2]Cook 2008.
[3]Cook 2008
[4]Cook 2008
[5]D. Todd Christofferson, "Allegiance to God," BYU devotional address, 19 October 1999.
---
---