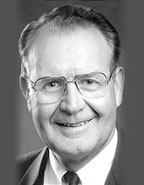 David E. Sorensen
Elder David E. Sorensen was called in 1998 to be a member of the Presidency of the Seventy, which assists with the adminis­tration of the Church under the direction of the First Presidency and the Quorum of the Twelve Apostles.  He served until 2005, when he was granted general authority emeritus status.  Elder Sorensen passed away in August of 2014.
Elder Sorensen was named a member of the Second Quorum of the Seventy in 1992 and to the First Quorum of the Seventy in April 1995. Before that, he served as Area President of the North America West Area and the Asia North Area with head­quarters in Tokyo, Japan. At the time of his call to the Seventy he owned and operated his own business.
Elder Sorensen served in the United States Army and completed a mission for the Church to the Eastern United States. He served as president of the Canada Halifax Mission from 1985 to 1988.
Elder Sorensen was born in Aurora, Utah. He and his wife, Verla Anderson Sorensen, had seven children.
Show More