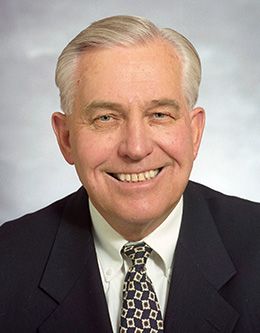 David L. Paulsen
David L. Paulsen, born in 1936, received an associate degree from Snow College in 1957. He then earned a bachelor's degree in political science from Brigham Young University, graduating as valedictorian of his class in 1961. Continuing his quest for education, David Paulsen went on to Chicago Law School, graduating with his JD in 1964, and then the University of Michigan, where he studied philosophy and received a PhD in 1975. His doctoral dissertation focused on a philosophical defense of Latter-day Saint theism.
David L. Paulsen's study of philosophy has specialized in Kierkegaard, William James, and the philosophy of religion. His philosophical and theological works would come to be seminal in the field of Mormon studies. He joined the faculty at BYU in 1972 and was a professor of philosophy there until 2011,. During his tenure, he held the Richard L. Evans Chair of Religious Understanding for four years and was also an Eliza R. Snow Fellow.
David L. Paulsen's academic work has given him opportunity to deliver several lectures on Mormon studies topics. Those lectures have included, among many others, addresses at the Foundation for Apologetic Information and Research conferences as well as the first intermountain meeting of the Society of Christian Philosophers, which Dr. Paulsen coordinated. He wrote several articles, which have been published in places such as the International Journal for the Philosophy of Religion, Analysis, Harvard Theological Review, Faith and Philosophy, Speculative Philosophy, FARMS Review, and BYU Studies. Some of those articles, touching on subjects from the divine feminine to the nature of the Godhead, have been described as groundbreaking in their perspective of LDS doctrine. Dr. Paulsen has also been an editor for multiple works in the field.
Though his academic work has been focused on a rational defense of the restored gospel, David L. Paulsen attests that his own testimony is not built on philosophical or theological reasoning, but on precious experiences with the Holy Ghost. One such experience, he shares, occurred during an eight-week seminar at Eastern Washington University in Bellingham. One Sunday while staying in Bellingham, he was asked to give a priesthood lesson. He was prompted that someone in the class was specifically intended to hear his lesson; the prompting was so strong that he eventually cancelled plans for a whaling excursion and spent an entire day studying, pondering, and preparing what he would teach. That Sunday, a family visited from out of town, and the father told Paulsen after class that his confirmation of the truth of the gospel, which was a culmination of a lengthy spiritual journey, had finally come during that priesthood lesson.
Such experiences, says Paulsen, are central to receiving a testimony of the gospel. He has served actively in the Church throughout his life, including as a bishop and a counselor in a stake presidency. He is married to Audrey Lucille Leer, and they have six children.
---
---