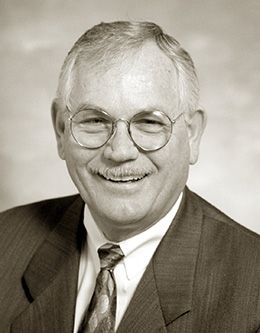 David M. Randall
David M. Randall joined the music faculty of Brigham Young University in 1970 as professor of clarinet. Active as a performer in both clarinet solo and chamber recitals, Dr. Randall has, along with many performances at Brigham Young University, performed and lectured as a faculty member at three Congresses of the International Clarinet Association: London, England; Tallahassee, Florida; and Denver, Colorado. During the summer of 1990 he toured throughout Germany, Switzerland, Austria, and Yugoslavia as clarinet soloist with the BYU Chamber Orchestra. He also performed on the program at the University of Oklahoma National Clarinet Symposium in June of 1993. Dr. Randall, in January 2002, performed a recital as part of the West Coast Clarinet Congress in Fresno, California.
During his time at the University, he was a member of Orpheus Winds. During the summer of 1987, the members of the quintet coached chamber music, gave private instruction, and performed concerts for 5 weeks in three of the major music schools in China in Shanghai, Beijing, and Xian. The group has performed at the Music Teachers National Convention in New York City and for the 1997 International Flute Congress in Chicago.
Dr. Randall was active in the School of Music's general education offerings. In recognition of his outstanding contributions in the area of General Education he received the prestigious Brigham Young University Alcuin Award from 1987-90. During the Winter 1991 and Fall 2003 semesters he served as associate director of BYU's International Study Program in London, England.
During the early years of the International Clarinet Society (mid 1970s), Professor Randall served as the organization's Secretary-Treasurer. Along with several others, Randall aided the Society in working through its initial incorporation process. Dr. Randall served from 1992 to 1998 as Associate Dean of the Brigham Young University College of Fine Arts and Communications. From 1997 to 2003, he was Director of the School of Music. As the new director he spoke at one of the campus' weekly devotionals in the fall of 1997.
Professor Randall retired from the Brigham Young University in December 2007 after being on the faculty for 37 years. Just a few months prior to retiring Dr. Randall spoke at the Convocation of the College of Fine Arts and Communications.
Professor Randall and his wife Barbara have six children and twenty grandchildren.
---
---