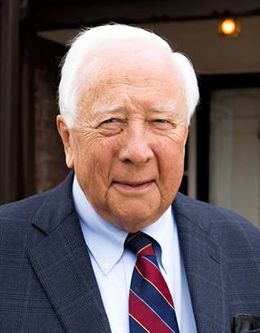 David McCullough
David McCullough is one of our country's best known and most celebrated biographers of admirable Americans. He was born in 1933 in Pittsburgh, Pennsylvania, and educated there and at Yale, where he graduated with honors in English literature. Author of Truman, Brave Companions, Mornings on Horseback, The Path Between the Seas, The Great Ridge, The Johnstown Flood, John Adams, and 1776, he has twice received the Pulitzer Prize. All of his books are still in print.
He is twice winner of the Frances Parkman Prize. For his work overall he has been honored with the National Book Foundation Distinguished Contribution to American Letters Award, the National Humanities Medal, the St. Louis Literary Award, the Carl Sandburg Award, and the New York Public Library's Literary Lion Award. He has also received an Emmy for his work in public television and is twice winner of the National Book Award for history and for biography.
McCullough is past president of the Society of American Historians and has been elected to the American Academy of Arts and Sciences. He has received 31 honorary degrees.
A gifted speaker, McCullough has lectured in all parts of the country and abroad, as well as at the White House. He is also one of the few private citizens to speak before a joint session of Congress.
McCullough is an avid reader, traveler, and landscape painter. He lives in West Tisbury, Massachusetts, with his wife, Rosalee Barnes McCullough. They have five children and several grandchildren.
---
---