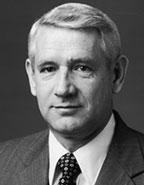 Dean L. Larsen
"My goal is to help people discover the gospel and help them enjoy living its principles. I hope it does as much for them as it has for me," says Dean L. Larsen. His life, full of faithful Church service and love for others, is devoted to accomplishing that goal every day.
Dean LeRoy Larsen was born on May 24, 1927, in Hyrum, Utah. The fifth of seven children, he grew up on a "semi-farm," raising livestock and growing vegetables. Larsen served in the United States Navy for a brief period towards the end of World War II and then attended the University of Utah and Utah State University. He graduated from the latter with degrees in English and Spanish in 1950. Halfway through his college career, he met Geneal Johnson from Ashton, Idaho. They were married and today are the parents of five children—"all boys except four," jokes Larsen.
After two years of sales work and other endeavors and eight years of teaching high school and early-morning seminary, Larsen taught seminary at Utah's Brigham City International Indian School, a dream job because of his interest in Native American culture. In 1961 he was made assistant coordinator of Indian Seminaries at Brigham Young University and appointed secretary of the Church Indian Committee the following year. He also taught at the University of Utah's Institute of Religion for one year before he was called to serve as the mission president of the Texas South Mission. While serving in Texas, Larsen often spent many hours traveling alone, driving vast distances to meet with all of his missionaries. "Some of the best talks you'll never hear, I gave to myself as I drove from one place to another in southern Texas," he said.
Upon completing his mission, Larsen resumed teaching at the Ogden Institute of Religion. In 1972 he became coordinator of curriculum planning for the Church; four years later he was named the editor of all Church magazines.
Larsen had always actively served in the Church, as a bishop, regional representative, high councilor, secretary of the Adult Correlation Committee, member of the Church Priesthood Missionary Committee, and member of the Sunday School General Board, among other callings. However, his capacity to serve was magnified in 1976 when he was called to be a member of the First Quorum of the Seventy. Elder Larsen was a member of the Presidency of the Seventy from 1980 to 1993 and also served as Church Historian and Recorder. He was granted emeritus status in 1997, but not for a restful retirement; Elder Larsen and his wife went on to serve as president and matron of the Provo Utah Temple from 1998 to 2001. He even made a movie debut in 2005 in a Church documentary entitled Between Heaven and Earth, where religious scholars of various faiths discuss the importance of temple worship.
Brigham Young University was privileged to hear Elder Larsen speak at six devotionals. His profound addresses about gospel principles, from thinking good thoughts to goal setting to personal accountability, are full of wisdom and encouragement for every generation.
---
---