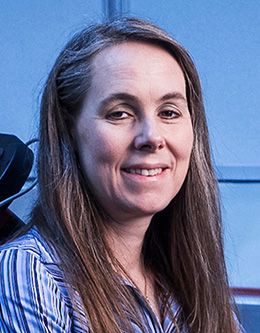 Denise Stephens
Ever since she was five years old, Professor Denise Stephens has been in love with the sky and the mysteriously beautiful objects she found there. This fascination inspired her to dedicate her life to the pursuit of the unknown through the study of astronomy. She began by studying physics at Brigham Young University as an undergraduate student, going on to receive her master's and doctorate degrees in astronomy from New Mexico State University. She then went to work at the Space Telescope Science Institute and did postgraduate work at Johns Hopkins University before joining the BYU faculty in 2007.
Dr. Stephens's research focuses primarily on the atmospheres of brown dwarfs—objects that form out of a cloud of dust and gas like stars but that lack the mass to ignite hydrogen fusion in their cores to complete the process of becoming a star. She is also interested in studying transiting extrasolar planets, working with the Kepler data set, and using telescopes to identify close binary systems.
Dr. Stephens teaches astronomy classes at BYU as an associate professor in the Department of Astronomy and is also the coordinator of the BYU Astronomical Society. She runs an annual event called Astrofest that is dedicated to introducing physics and astronomy to children in a fun, hands-on environment. She is also the captain of BYU's on-campus women's flag football team. She and her husband are the parents of seven children.
Although BYU does not have the same amenities as the Space Telescope Science Institute or Johns Hopkins University, where she used to work, Dr. Stephens is dedicated to using the resources she has to make new discoveries and further our limited knowledge of space. In her BYU devotional she teaches that the intricacies of space are proof of God's love for us, His most important creation.
---
---