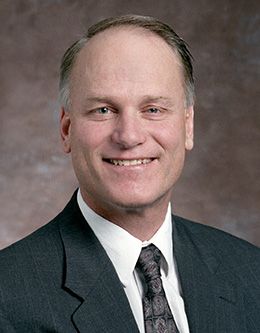 Dennis L. Largey
Dennis L. Largey is a California native who first came in contact with the Church at the Church College of Hawaii, where he played basketball and was on the NAIA National Championship Volleyball Teams of 1971 and 1972. He joined the Church and served a full-time mission to Ireland.
Professor Largey began his career teaching seminary in Mesa, Arizona. He earned his doctoral degree in physical education at Brigham Young University and returned to BYU—Hawaii to teach and coach. His assignments while in Hawaii included teaching physical edu­cation and religion. He was the head coach of the men's volleyball team and served as chair of the Physical Education Department.
Dr. Largey joined the Religious Education faculty at BYU in 1985. He has served as associate chair of the Ancient Scripture Department and as a faculty member at the Jerusalem Center for Near Eastern Studies.
Professor Largey is the author of the book Anchors for the Soul: Enduring to the End in Righteousness, articles that have appeared in the Ensign, and chap­ters in books. His most recent project focuses has been working as the general editor of the forthcoming Book of Mormon Reference Companion, an encyclopedia of the Book of Mormon.
Brother Largey has been a bishop, high councilor, and member of the BYU 13th Stake presidency. He also served in a branch presidency at the Missionary Training Center.
He is married to Kristene Belnap Largey, and they have four children and several grandchildren.
---
---