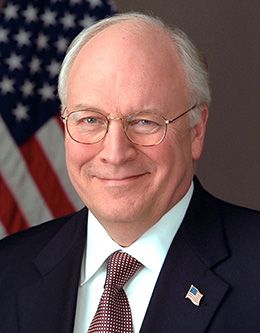 Dick Cheney
Richard "Dick" Bruce Cheney was born January 30, 1941, in Lincoln, Nebraska. He was raised there as well as in Casper, Wyoming. His father was a soil conservation agent and his mother a former softball star. He is one of three children.
Dick Cheney attended Yale for a season, but by his own admission did not succeed academically. He then earned a BA and an MA in political science from the University of Wyoming and started doctoral studies at the University of Wisconsin–Madison, where he completed all requirements for a doctoral degree except his dissertation.
After beginning his political career as an intern to a congressman, Dick Cheney worked his way up to the White House. He served in several positions there, most notably as the chief of staff under President Gerald Ford from 1975 to 1977. He then was elected as a member of the House of Representatives for five consecutive terms between 1979 and 1989. The most influential stage of his public service began when he served as secretary of defense under President George H. W. Bush. His oversight of the 1991 Operation Desert Storm and other major operations resulted in his receipt of the Presidential Medal of Freedom.
Cheney then spent some time in the private sector. He was a member of the American Enterprise Institute, served two separate terms as a director of the Council on Foreign Relations, and was the CEO of Halliburton Company for five years. He also served as a member of the board of advisors of the Jewish Institute for National Security Affairs.
From 2001 to 2009, Dick Cheney was the forty-sixth vice president of the United States under President George W. Bush. Their first campaign was won against Al Gore and Joseph Lieberman; their second was won against John Kerry and John Edwards. Dick Cheney played a major role in the administration's handling of the attacks on September 11, 2001, and subsequent conflicts in the Middle East as part of the Global War on Terrorism.
After leaving office, Dick Cheney retired but remained politically active. He also wrote a memoir, In My Time, and a second book, both coauthored by his daughter Liz. He is married to the former Lynne Vincent, his high school sweetheart, who has served as a chair of the National Endowment of the Humanities and is now a public speaker, author, and senior fellow at the American Enterprise Institute. They have two daughters, Liz and Mary, and seven grandchildren. Dick Cheney is a member of the United Methodist Church.
In April of 2007, while serving as the vice president, Dick Cheney was awarded an honorary doctorate of public service by Brigham Young University and delivered BYU's commencement address. In response to mixed reactions about his selection, the board of trustees stated that they wished the invitation to be viewed "as one extended to someone holding the high office of vice president of the United States rather than to a partisan political figure." In his address, Vice President Cheney spoke on the importance of education and having the courage to take unexpected paths that life presents to us.
---
---