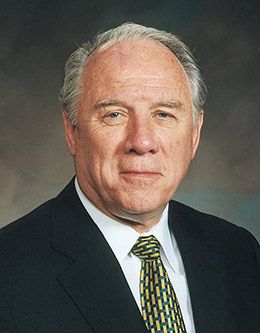 Donald L. Staheli
Elder Donald L. Staheli was called as a member of the Second Quorum of the Seventy on April 5, 1997. He served as president of the North America Central Area and as a coun­selor in the North America Central Area and North America Northeast Area, and was granted general authority emeritus status in 2006.
At the time of his call to the Seventy he retired as chairman and chief executive officer of Continental Grain Company, a New York City–based international agribusiness and financial services concern.
Prior to his call Elder Staheli had extensive involvement with outside organizations including a number of internationally related groups and corporations. He was chairman of the U.S.–China Business Council; of an International Leaders Advisory Council to the Mayor of Shanghai; of the National Advisory Council of Brigham Young University's Marriott School of Management; and of the Points of Light Foundation, a national organization to encourage volunteer activities. He has served as director of several corporations, university, and nonprofit boards and continues to serve on the Board of Directors of America's Promise, a volunteer organi­zation dedicated to helping youth.
He received a bachelor's degree from Utah State University and a master's degree and a doctorate from the University of Illinois and has served as stake president and counselor, high councilor, bishop's counselor, elders quorum president, high priest group leader, and stake Young Men president. Elder Staheli andAfton Stratton Staheli are the par­ents of four children.
Elder Staheli passed away on May 29, 2010 at the age of 78.
---
---