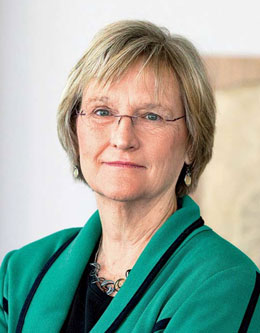 Drew Gilpin Faust
Dr. Drew Gilpin Faust is a well-known American historian, author, and higher education professional. Dr. Faust served as the 28th president of Harvard University—the first woman to hold the position from 2007 to 2018, during which time she made numerous positive changes to the prestigious school. She helped students at Harvard obtain more financial aid based upon need, and other universities such as Stanford and Yale followed suit. While president, Dr. Faust also pushed for increased funding for scientific research, encouraged the arts to flourish at Harvard, and helped the university to reduce their environmental footprint. 
Dr. Faust herself was a student at several top-notch universities. After graduating from the prestigious Concord Academy, she attended Bryn Mawr College and finished with a BA in history. She then earned an MA in American civilization followed by a PhD at the University of Pennsylvania. After finishing her schooling in 1975, Dr. Faust stayed at the University of Pennsylvania and began teaching as an assistant professor of American civilization, eventually becoming a professor of History for the university. 
Between her time as a history professor and her appointment as president of Harvard, Dr. Faust was appointed as dean of the Radcliffe Institute of Advanced Study. During this time, she also began writing her first books. She is currently the author of six books, several of which have been very well-received. Her most recent book, This Republic of Suffering: Death and the American Civil War, came out in 2008 and was a finalist for both the Pulitzer Prize and the National Book Award. In 2009, This Republic of Suffering received the New-York Historical Society's 2009 American History Book Prize and the Bancroft Prize, which is awarded to only two books annually. The New York Times also recognized the book on their list of the "Ten Best Books of 2008." 
Through her scholarship and leadership, Dr. Faust has earned a plethora of distinguished awards, including being named a member of the "Time 100" in 2007, which is an annual list of the most influential people in the world. She also made the Forbes list of "100 Most Powerful Women" multiple times, her highest ranking at #33 in 2014. 
Dr. Faust is married to her former dissertation advisor, Dr. Charles E. Rosenburg, who is a historian of medicine at Harvard. Together they raised two daughters, Jessica and Leah. 
---
---