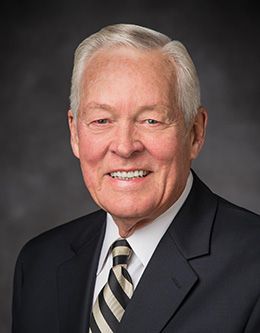 Earl C. Tingey
Earl C. Tingey has repeatedly taught the importance of establishing habits that motivate and inspire toward righteous goals. He learned from an early age the necessity of hard work as he worked on his family farm. His family grew an assortment of produce, all of which had to be packaged and ready for delivery at 4:30 each morning. The strong work ethic he developed continued to bless him in his professional life as he went on to gain an education and serve in the Church.
Born June 11, 1934, Earl C. Tingey was the first of ten children. Being the oldest child taught him responsibility as he had a hand in helping his parents not only around the farm, but also with watching after his younger siblings. In 1955 he left his home in Utah to serve a mission in Australia. During his time there, renowned lawyer and Church leader Hugh B. Brown came and stayed with Elder Tingey and his companion. This interaction would change the course of Elder Tingey's life, inspiring him to pursue a career in law.
Upon returning home from Australia, Brother Tingey attended law school at the University of Utah. It was during this time that he met Joanne Wells, who at the time was a teacher at a school in Provo. After a year of courtship, the two were sealed in the St. George Temple. They would go on to have four children and many grandchildren.
After his graduation from the University of Utah with a juris doctor degree, Brother and Sister Tingey moved east to fulfill a military obligation. The couple's intention was to move back to Utah upon completion of the three-year assignment, but before those plans could be finalized, Brother Tingey was called to serve as the bishop of the Manhattan Ward in New York City. Having grown up in a gospel-centered home, he knew that he should never turn down a calling from the Lord. Although it was contrary to what they had originally planned, the Tingeys decided to stay in New York, and Brother Tingey accepted the call to be the bishop. Remaining in New York afforded Brother Tingey the opportunity to attend New York University in pursuit of a master of corporate law degree. He established his own private practice and went on to serve on the legal staff of several prestigious corporations, including Gulf Oil and the Kennecott Corporation.
Brother Tingey's service in the Church is as diverse and impressive as his career accomplishments. In the early 1970s, he returned to Australia to serve as the president of the Australia Sydney Mission. He also served as a counselor in the Eastern States Mission and, after returning to Utah, as the president of the Utah Ogden Mission and as a regional representative. In 1990, Brother Tingey was called to be a General Authority and was ordained a member of the Quorum of the Seventy, later becoming the Senior President of the Seventy. Following his release in 2008, he served as president of the Washington DC Temple.
Brother Tingey has also served on the National Advisory Board of the Utah Symphony, on the alumni board at the University of Utah, and as a member of the Church Board of Education. His community service also includes serving as president of the Great Salt Lake Council of the Boy Scouts of America, which awarded him the Silver Beaver Award. He also enjoys growing pumpkins for the children in his ward. Brother Tingey gave six addresses at BYU, setting an example of selfless service as he said that, for him, joy comes from "the satisfaction of knowing that someone may be helped by something I did."
---
---