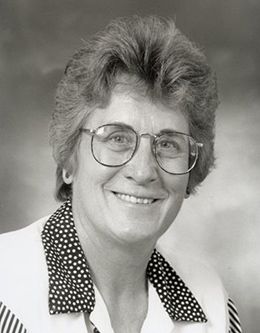 Earlene Durrant
Dr. Earlene Durrant earned bachelor's, master's, and doctorate degrees in physical education from BYU. A Certified Athletic Trainer (by the National Athletic Training Association [NATA]), she joined the BYU faculty in 1973 to serve as head women's athletic trainer.
Before her BYU tenure, Professor Durrant was a Brigham Young High School teacher and coach for three years and head of the women's Physical Education Department at BYU–Hawaii for five years. She has served as chair of BYU's Department of Physical Education beginning 1994.
The Coalville, Utah, native has established herself as a leader in athletic training. She has been recognized with the 1999 NATA Outstanding Service Award, the 1999 AAHPERD Southwest Region Honor Award, and BYU's Wesley P. Lloyd Award for Distinction in Graduate Education. She is the first woman to be inducted into the RMATA Hall of Fame (1998) and to receive NATA's Most Distinguished Athletic Trainer Award.
Dr. Durrant has conducted research in the use of heat and cold in the prevention, immedi­ate care, and rehabilitation of athletic injuries. She has been twice recognized by NATA with Outstanding Research Paper designations. She has written several manuscripts and abstracts, and she is the coauthor of the book Weight Training for the Female Athlete.
Sister Durrant has served the community as a volunteer for the Ameri­can Red Cross and for the Utah County Big Brother/Big Sister program. She has also served as a consultant to the Provo, Alpine, and Calgary School Districts. She was also a member of the 2002 Olympic Organizing Committee.
---
---