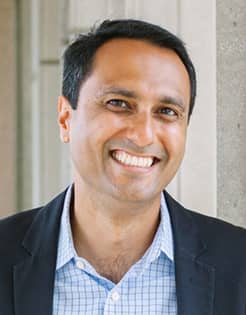 Eboo Patel
Eboo Patel is an interfaith leader who worked as a member of President Barack Obama's inaugural Advisory Council on Faith-based Neighborhood Partnerships. He is the founder of the nonprofit organization Interfaith Youth Core, which works specifically with young people to promote interfaith cooperation and understanding.
Patel started his journey to interfaith cooperation by earning a degree in sociology from the University of Illinois at Urbana-Champaign, which he followed with a doctorate in the sociology of religion from Oxford University. Today he is an accomplished author and sought-after public speaker. Patel also serves as a board and council member for many organizations, including the Department of Homeland Security's Faith-based Security Advisory Council.
Patel has the opportunity to travel often to promote the kind of interfaith cooperation he envisions, but he, his wife, and their two sons have made their home in Chicago, Illinois.
---
---