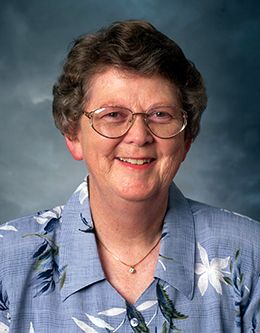 Elaine Michaelis
Elaine Michaelis was acknowledged as one of the nation's top volleyball coaches and oversaw one of the coun­try's most successful intercollegiate women's athletic programs. She coached volleyball, among other sports, at BYU from 1961 to 2002. When she retired from coaching, she was ranked No. 2 all-time in Division I volleyball victories and with the most wins by a female coach in collegiate volleyball at any level, even without counting her first eight seasons, which had no records kept.
Sister Michaelis became part of BYU's women's athletic program when she was a student, participating in vol­leyball, basketball, and softball. After graduating with a bachelor's degree in physical education, she was hired to coach several of BYU's women's teams. She went on to obtain a master's degree in physical education from BYU and is an associate professor of physical education and an athletic professional.
She has authored two books on the importance of sports in special educa­tion and has produced a physical fitness and recreation manual, an officiating manual, and a sportsmanship filmstrip.
Elaine Michaelis also served as NAGWS and NCAA clinicians, chair of the AIAW Volleyball Sports Committee, and chair of the Volleyball Rules Committee. She was a member of the AIAW Executive Committee for five years, chair of the National Ethics and Eligibility Committee for AIAW, and served a term on the AIAW Rules and Standards Committee. She also served on Mountain West Conference committees as well as on the BYU Advancement Council.
---
---